The Nike Horror Pack: Freddy Krueger Has Some Gruesome… Sneakers?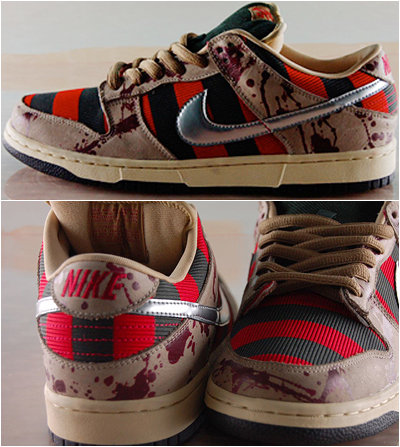 I'm not sure how these slipped past my radar, but apparently Nike actually released some sneakers last year based on Freddy Krueger from the Nightmare on Elm Street films. I'm guessing I never knew about 'em since I'm one of those people who cares very little about shoes and buys a new pair once every... oh I dunno... ten years. From what I can tell, it was a very limited release known as "The Horror Pack", but the sneakers are undoubtedly Freddy. As you can see, the pattern on the shoes matches his infamous red and green striped sweater. I like how the Nike logo is a shiny silver just like one of Freddy's razor fingers too. There's also some blood splatters all around the borders of 'em, but I think the effect would've been a lot nicer if the blood was everywhere. These are Freddy's sneakers after all. We're talking about a guy who spends most of his time down in a grimy boiler room, so I doubt any sneakers he wears would look so clean. The real shocker here is that people wouldn't even get to see the truly best part about this set o' sneaks if you were wearing them...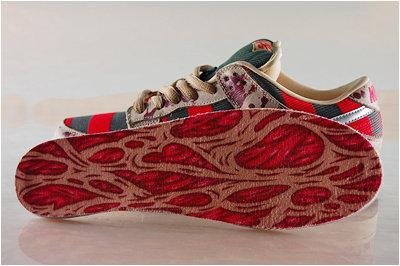 Yep. The inner soles look just like Freddy's burnt flesh! I would've loved to see this pattern on the outside of the sneakers in some spots, maybe in those plain tan areas or something. Seems like such a shame to waste the best part of their sneaker design on the one place that nobody would ever see when they're being worn. Still, it's a fun set of sneakers and I hope Nike releases them more widely along with some other horror icon themed pairs. I highly doubt that'll ever happen though, so if you want a pair, you'll probably have to find them on eBay.
So what other horror icons do you think they could make a set o' sneakers for? I would think they could do one based on Pinhead or any of the cenobites from the Hellraiser series pretty easily. Just some blood splattered black shoes, with ripped open fleshy parts just like their outfits, and of course the Nike logo in silver again to represent one of Pinhead's hooks.
27 comments
Leave a Reply
Previous post: What Shall I Be For Halloween?
Next post: Monster Briefs. Horror Magazine Covers And Your Crotch, Together At Last.