When Monsters Become Helpless Slingshots: Bunjie Battle Monsters!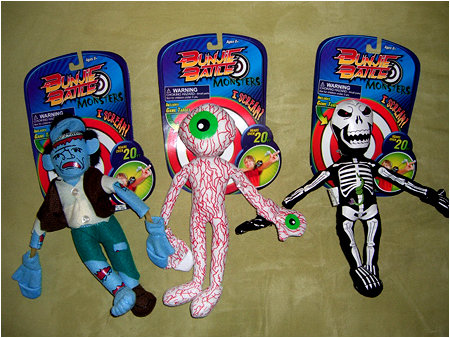 Target is always one of the first places I stop when Halloween season begins, not just because they decorate their seasonal section so well, but because they usually have some great exclusives. I'm sure you've already seen their Domo-Kun setup this year (click here if you haven't), but out of all their new Halloween novelty items, one of the products that really caught my eye was Bunjie Battle Monsters. Why? Because they look so sad and cheap.
The idea behind these monsters is that you can stretch out their arms by sticking your fingers into the pockets built into their hands while pulling back on their feet. You then aim them at the target (no, they don't include a nice one to hang on the wall, you literally just have to use the target on the front of the cardboard packaging which is partially covered by promotional graphics) and then let 'em soar through the air. Now, I must admit, turning monsters into slingshots is definitely an original idea, but there are quite a few problems with these toys...
First off, you may notice the promotional text on the package where each monster proudly proclaims, "I SCREAM!" Well, out of the fifteen monsters that were in stock, only two of them actually made the screaming sound when they come into contact with something. Furthermore, their so-call "screams" aren't anything of the sort. Instead, if you can find one that actually works, the only sound it will make is the ultra-generic "oooooo-weeeeee-oooooo" siren sound that we've all heard countless times before since 99% of cheap Halloween products use that exact same sound.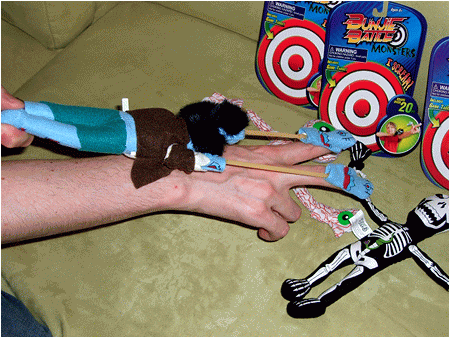 And then there's the figures themselves. Many of them had already been stretched out way too far, so it was hard finding ones without any of the rubbery tubing exposed. Exposed or not, I will at least give them credit for "Soaring over 20 feet" because they do shoot pretty far. While the Vampire was nowhere to be found (presumably because he was too embarrassed to show his face), I did manage to get the Skeleton, the Eye, and the Zombie. The Skeleton is your run o' the mill pile of bones, nothing particularly interesting about him unless the snake crawling down his ribcage somehow gives you cause for excitement. The Eye is probably my favorite of the group, not just because it's a cyclops humanoid eyeball, but it makes me think of Slim Goodbody for some reason. And anything that reminds me of Slim Goodbody is aok in my book. I grew up watching that creepy guy on TV and I'm sure countless other people found his skin-tight flesh-colored unitard, which displayed the various systems of the human body, to be absolutely disturbing. If you've never had a nightmare about Slim Goodbody, then you didn't grow up in the eighties. And then there's the zombie...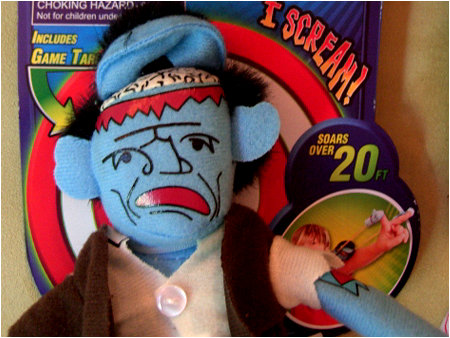 That is one SAD looking motherfucker right there. When I first saw him, I thought it was Frankenstein, but I guess the exposed brain and flesh wounds makes him a zombie? Honestly, he looks more like a hobo who has lost the will to live. Then again, when your existence is compromised of being flung against a cardboard target tacked on a wall, I guess there's not too much to be happy about.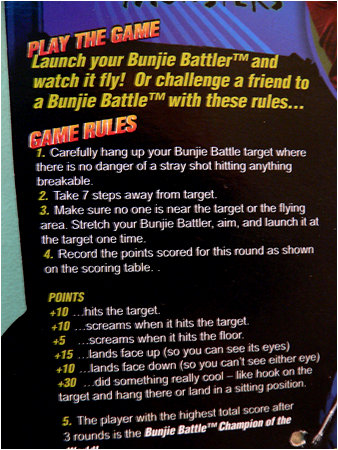 As sad as the toys may look, they sure are excited about the Bunjie Battler game according to all the promotional text. The target shot game has a really bizarre scoring system that seems like something the creative department pulled out of their asses at the last second before sending the text off to the printer. "+30 points if it did something really cool - like hook on the target and hang there or land in a sitting position." Nice randomness there... why not throw in some more such as "+50 points if it did something really cool - like, you know, like it flies through the air and, like, hits the fan and like lands in your dad's tomato soup and then he shouts 'Well I never!' as you and your friend give each other a high-five." I think it could work. The scoring system is flawed anyway... "+15 points if it lands face up (so you can see its eyes)... +10 points if it lands face down (so you can't see either eye)." But what if you're shooting with "The Eye" monster whose entire body is just one big eye? I know, I know... I just blew your miiiiiiiiind! I also love this bit of promotional text, "Bunjie Battle is all about fun. After you've played this game a few times, try making up your own games. Just make sure everyone understands and agrees to all the rules before you start!" Dear god, it's like they don't even know how to make these toys interesting for more than a few minutes, so they're just hoping you can figure out some way to make them exciting.
The Senario company doesn't even mention the Bunjie Battle Monster toys on their web site. Perhaps they're ashamed of them? All I know is that somebody needs to get that zombie some help and fast, because he's headed down a dark path...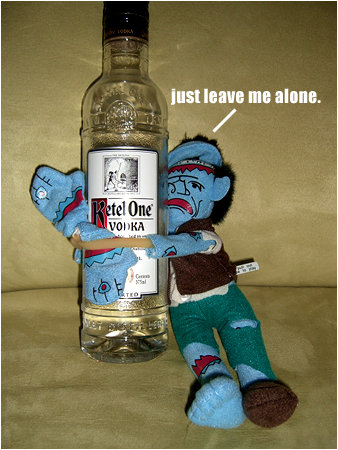 21 comments
Leave a Reply
Previous post: Monster Briefs. Horror Magazine Covers And Your Crotch, Together At Last.
Next post: Kellogg's Limited Edition Candy Corn Flavored Corn Pops Cereal: Bring It Back!