Kellogg's Limited Edition Candy Corn Flavored Corn Pops Cereal: Bring It Back!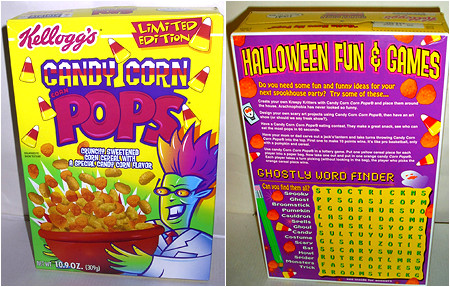 Click to enlarge.
Before you get all excited and rush to the grocery store to buy a box (or five), I'm sorry to say that Kellogg's Candy Corn flavored Corn Pops cereal was a limited edition release from back in 2001. Why they don't release these every Halloween is beyond me, because really... who wouldn't want to eat candy corn for breakfast? Admittedly, the cereal itself isn't particularly amazing looking, I would've much rather seen them make the Pops look like little candy corn shapes, but at least they got the flavor part right instead of just making it a visual novelty. If you're really desperate to try the stuff, you can find an old box of them on eBay every now 'n then, but I wouldn't recommend eating cereal that old no matter how tempting it may be. If you did, chances are you'd end up looking like the mad scientist on the box. But hey, there's nothing stopping you from enjoying a bowl of real candy corn. I bet it wouldn't even taste half bad with milk.
Anyway, for whatever reason, Kellogg's was alllll over Halloween that year. Not only did they have the Candy Corn flavored Corn Pops cereal, but they also had "Kreepy" Rice Krispies and "Jack O Lantern" Apple Jacks. I don't know what it was about 2001 that inspired such a fever amidst the ranks of Kellogg's employees for all things Halloween, but damnit, they need to bring it all back. I'm just putting this out there, because Candy Corn Pops cereal should not be forgotten and I'm sure reps from Kellogg's spend 90% of their time reading this site to determine exactly what moves they should make next. Well, now you know Kellogg's... now you know! October hasn't arrived yet and there's still time to put those Candy Corn flavored Pops back on the market! So get to work on it pronto!
Do you think any other Halloween candies could make for some good cereals? How about the Halloween Peeps? We're already used to having marshmallows in our cereal as it is... with Peeps we could just eliminate the cereal part. Let's hear your ideas.
Also, I've never been to Kellogg's Corn Pops web site until today, but after surfing through it, I'm convinced that whoever designed it must've gotten into a bad old batch of Candy Corn flavored Corn Pops. Seriously, spending a few minutes on that site is like a horrifying bad acid trip. Just click through the videos and you'll see what I mean. Let me know if you manage to last more than five minutes on that site. I apologize in advance for any permanent damage it does to your psyche, but Halloween is all about watching scary stuff and it doesn't get much scarier than this.
33 comments
Leave a Reply
Previous post: When Monsters Become Helpless Slingshots: Bunjie Battle Monsters!
Next post: "Friday The 13th: The Series" Season 1 Finally Comes To DVD!