"Friday The 13th: The Series" Season 1 Finally Comes To DVD!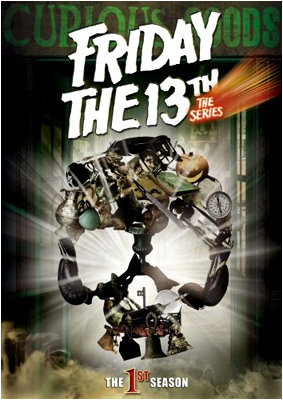 I'm really, really glad to see Friday the 13th: The Series finally get a DVD release. While many people thought it was lame that the series had nothing to do with the Jason Voorhees storyline, many horror fans saw it for what it was - a genuinely entertaining and suspenseful TV show. It's often been compared to the X-Files, though it predated that show by a good six years. The series was about a "Curious Goods" antique shop owner (Lewis Vendredi) who made a deal with Satan to make some mega-bucks by selling cursed antique items. He eventually broke off the deal and was subsequently killed as a result. His nephew (Ryan Dallion) and cousin (Micki Foster) inherit the store and start selling off all the items from the vault downstairs. Unfortunately for them, they learn from Lewis' old co-worker (Jack Marshak) about how the antiques were all cursed after they had already sold them off. So now, it's up to them to recover all of these cursed antiques so they can be stored in the downstairs vault where they'll never cause trouble anymore.
The show covered a wide variety of topics, but one of the central themes was how seemingly good people could be swayed by temptation and made to do bad things. Trust me when I say it's not just nostalgia that makes me excited to see the series again... it really was a good show. The first season had some solid guest stars such as Ray Walston, Zack Ward, R.G. Armstrong, David Proval and more. David Cronenberg even directed the "Faith Healer" episode. Unfortunately, Paramount didn't see fit to include much in terms of extras included with this set, but I'm just glad to see the episodes get an official DVD release. It only took over 20 years!
Friday the 13th: the Series only ran for three seasons, and most people will tell you that the the first two are the only ones really worth watching, especially since John D. LeMay (Ryan) left the show after season two. Still, I think there were plenty of entertaining episodes in the third season worth watching, so I hope they'll eventually release it on DVD so we can all have a complete set. I should also note that John would actually go on to star in "Jason Goes to Hell: The Final Friday", so at least there's one connection that the show had to the films.
I think one of the main reasons the show was compared to the X-Files is not just because of all the mystery and suspense, but because the lead female, Louise Robey (Micki), was a redhead. Actually, she wasn't just an average red head, she had a friggin' mountain of red hair. Her hairdo is genuinely 80s and she would've been right at home, standing in line for a Poison concert on the Sunset strip back in the day.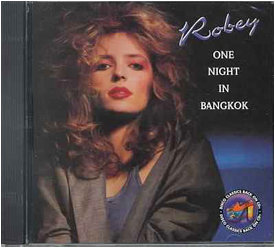 And speaking of music, she apparently released an album... so there's a little trivia for you hardcore fans of the series. Now you can impress all your friends when you show them the DVD set and go:
"Yeah, I had a major crush on Louise back in the day. Say, did you know that she released an album called 'One Night In Bangkok' too? Well she did. I know because I watched her record it. What? Oh, no, I wasn't a part of the studio sessions... I just drilled a whole in the ceiling and watched from above. I got stuck in there one night and had to eat rats for sustenance. Not too bad really. So anyway, I've been trying to get her to autograph my copy of the album for years, but she won't answer my letters. Maybe it's because I wrote them in blood and swore that if I couldn't have her, nobody could... but I dunno. I didn't mean it to come off as crazy. I'm just, you know... a dedicated fan. What's that? Oh, her lawyers say otherwise, do they? Well fuck them. I know that she and I were destined to be together and one day we'll travel to Bangkok to recover that last cursed antique and then she'll love me for the real man I am today!"
I'm sorry, that's just the impression I have of what most of you people are like. Don't deny it... let the truth set you free.
Now that they finally released the Friday the 13th series DVD set (and "Tales From The Crypt" has been out for a while), I think it's high time "Freddy's Nightmares" gets the DVD release treatment. I can only stand watching the old "best of" VHS tapes and online episodes for so long. For those of you unfamiliar with the Freddy's Nightmares show, I reviewed the two most important episodes a while back: "No More Mister Nice Guy" and "Sister's Keeper".
Anyway, please tell me I'm not the only one who really liked the Friday the 13th TV series. Share some of your favorite memories of the show, will ya?
48 comments
Leave a Reply
Previous post: Kellogg's Limited Edition Candy Corn Flavored Corn Pops Cereal: Bring It Back!
Next post: What Nightmares Are Made Of.