What Nightmares Are Made Of.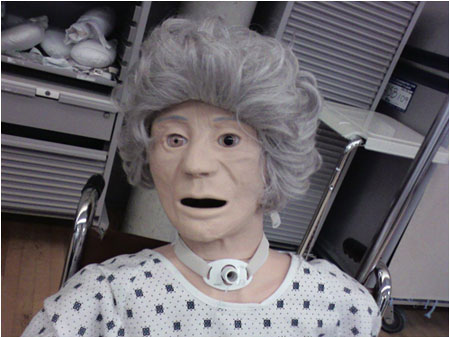 My friend Karen is training to be a nurse, and today she sent me this picture of the fucked up Satan mannequin she has to practice her stuff on. She actually has to get close to this thing and practice life saving techniques on it, take its readings, etc. I certainly don't need any medical instruments to get the only real reading you need to collect off this fucking thing: it's pure evil.
Apparently they all have breasts and both sex organs too. You know, just to cover all the bases, because I'm sure there are lots of hermaphrodites with breasts, tracheotomies, and a single, insanely dilated pupil with the black blood of evil pumping through their veins who are in dire need of medical care. You never know.
I'm going to have nightmares tonight because of this fucking thing.
But you know how I've just realized I'm going to make an awesome father someday? Because the first thing I thought of after I completely pissed myself was this: if I ever had kids, I am totally getting my hands on one of these things and sitting it at the foot of their bed in the middle of the night.
52 comments
Leave a Reply
Previous post: "Friday The 13th: The Series" Season 1 Finally Comes To DVD!
Next post: Skel-A-Flamingos: A Pop Culture Icon Becomes The Ultimate Halloween Lawn Ornament!