Skel-A-Flamingos: A Pop Culture Icon Becomes The Ultimate Halloween Lawn Ornament!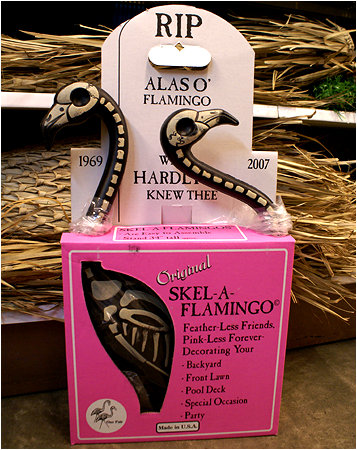 Classic lawn kitsch just got a lot spookier. Skel-A-Flamingos. SKEL-A-FLAMINGOS! It's one of those simple, obvious creations that makes you want to smack yourself on the forehead and scream, "Why didn't I think of that!?" I want these. I want to see these everywhere I go. If you have a lawn, buy fifty of these and put the entire bony flock out on display for all to see this Halloween. Also, take notice of how the box states that the Skel-A-Flamingos can be used for "special occasions". That's a bold, completely open-ended statement right there. So yeah, I expect to see these popping up at weddings, corporate events, concerts, and of course, funerals.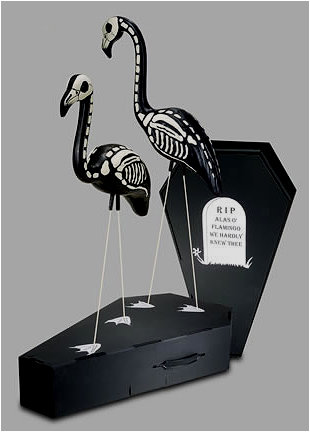 When I kick the bucket, I will come back and haunt you all if there aren't at least a few dozen Skel-A-Flamingos at the funeral ceremony. Actually, I'm gonna come back and haunt you all anyway, because I think that'd be one hell of a fun time. For me, at least... not for you.
Also, with the advent of Skel-A-Flamingos, somebody had damn well better make be some skeleton yard gnomes, or "Skel-A-Gnomes", to go with 'em pronto.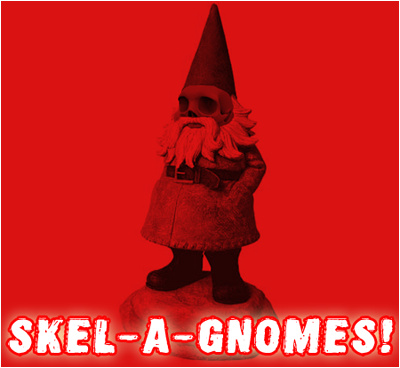 32 comments
Leave a Reply
Previous post: What Nightmares Are Made Of.
Next post: A Nightmare On Any Street.