A Nightmare On Any Street.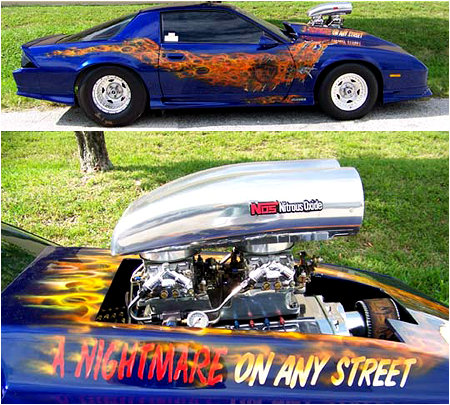 If any of you are in the market for a new car at the moment, you might be interested in this eBay auction I stumbled onto the other day. Normally, I care for automobiles about as much as I do for sneakers, but as you can see, this isn't your average car. It's a 1983 Chevrolet Camaro themed after the A Nightmare On Elm Street films. In my dreams (no pun intended), this thing would have a gearshift made of bones and a car horn that plays the Elm Street theme song... but it's not quite that cool. What it does have, however, are some hilariously cheesy airbrushed graphics that I'm sure you'll appreciate. After all, we're talking about a seller who promotes the car with verbiage such as, "Freddy Krueger's back, & pissed & now he has 1200 Ponies!" Oh yeah, this is only gonna get better.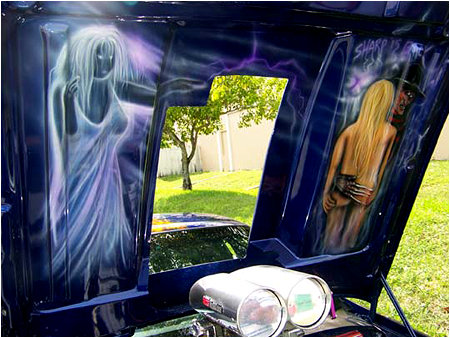 Yes, it has Freddy's face slashing through the flames on the side of the car, but that's far from the highlight of this car. You see, when you lift up the hood, you are treated not only to a ridiculous engine (complete with nitrous oxide system), but two airbrushed drawings, one of what I can only presume is a lost soul, and one of a Freddy with a lucky lady friend.
Naturally, she's naked and his finger blades are cutting into her ass cheeks just a little bit, but not too much. They wouldn't want to make this car less classy after all, right? So yeah, if you want this fine family friendly roadster, it will set you back $58,888.00, but that's a small price to pay to drive a car around town this Halloween that's A Nightmare On Any Street. Or not. Since I'm sure you're ready to write a check for it now, here's the link to the auction.
Personally, if I was going to spend my money on a Halloweeny car, I'd try to track down the Munsters' Koach. How about you?
39 comments
Leave a Reply
Previous post: Skel-A-Flamingos: A Pop Culture Icon Becomes The Ultimate Halloween Lawn Ornament!
Next post: Re's Halloween Treats For The Domestically Challenged.