Boo Berry "Razzle Boo Blitz" Flavored Fruit By The Foot.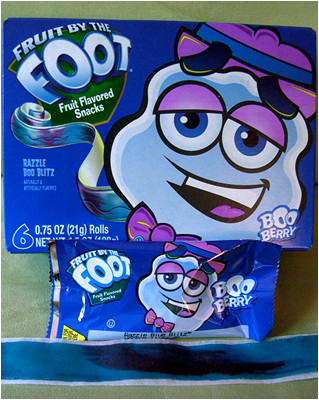 I've had a bunch o' people email me about these "new" Boo Berry flavored Fruit by the Foot snacks. Contrary to popular belief, these have actually been out for several years now, but this is the first time I've been able to find them in a store... and it's apparently because I was looking in the wrong place all along. Boo Berry is the last thing you would expect to find in a CVS, but there he was in all his spooky splendor on a box of Fruit by the Foot "Razzle Boo Blitz" flavored fruit snacks. It's also not exactly the kind of product you'd expect to see Boo Berry on either, but at least they didn't try to shoehorn Count Chocula into their fruit snack line (not that I wouldn't try it if they did).
Anyway, the packaging looks just like this year's Boo Berry cereal box (which sadly comes with no extra goodies), and each Fruit by the Foot snack is nicely wrapped in Boo Berry themed foil. Sounds pretty good right? There's only one small problem with all of this...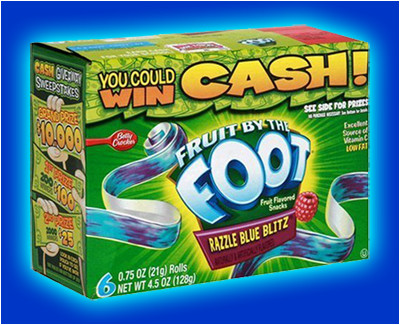 Yyyyyyep. This is nothing but a repackaging of their "Razzle Blue Blitz" that's been around for ages. They didn't even bother to remove the old name from the individually wrapped treats. I like that they're getting Boo Berry more "out there" with this 'n all, but if they're putting in that kind of effort, they could at least make an exclusive flavor based on the cereal rather than this repackaged deal. Don't get me wrong, they're delicious as most fruit snacks are, I just would've liked something new. I want to see them actually try to translate my favorite cereal into a stretchy fruit snack rather than slap Boo Berry's face on the box of a preexisting flavor. They also did the same with Frankenberry, using their regular strawberry flavor and tacking the word "scream" onto it. Nice try General Mills, but you're not fooling any of us die-hard monster cereal fanatics.
Boo Berry cereal may not be the easiest thing to track down, even so close to Halloween, but I think you'll at least have a less difficult time finding the Fruit by the Foot monster cereal themed snacks in your local grocery stores... or... CVS. Just don't expect it to taste like your favorite monster cereals. Happy hunting.
20 comments
Leave a Reply
Previous post: Looking For A Halloween Costume? Look No More.
Next post: The Horror That Is The Transformers Optimus Prime Halloween Pail.