Crank Mob's Halloween Ride. Plus, The New Friday The 13th Teaser Trailer.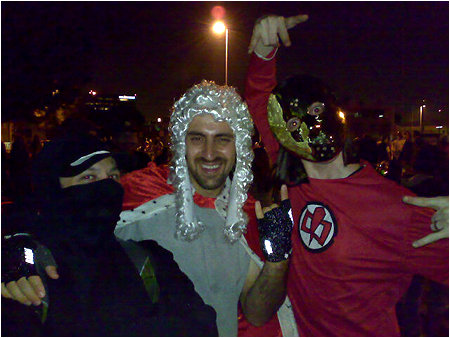 So this past Saturday night, I went out for the Halloween Crank Mob ride with some friends. It was just like the other bicycle rides we've done, only a bunch of us were in full costumes this go around. I decided to combine a few things to become "The Greatest American Psycho". Actually, I just wanted an excuse to buy a shiny gold Jason Voorhees mask. Seriously, can a person ever really own too many golden Voorhees masks? I think not. Anywho, I considered it a very successful ride in that I didn't kill myself while riding a bike in the middle of the night while wearing a hockey mask. Who needs peripheral vision when you're riding a bike in a completely ridiculous costume? You haven't truly lived life until you've chosen fun over safety and common sense at least once or twice.
Not too surprisingly, I ran into another Voorhees during the Halloween ride...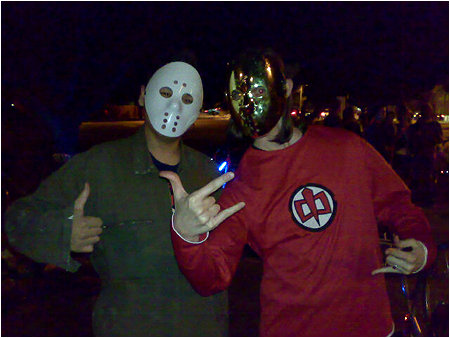 That's Jason's brother, Chester. He can't afford a solid gold hockey mask, and he actually annoys Jason a lot. Chester's always showing up at his house, drunk off his ass and asking if he can borrow some money. Jason thinks Chester should check himself into rehab and get his life straightened out, but the last time he suggested this, Chester called him an elitist prick and then vomited all over his nice Persian rug. Yeah, that Chester's got some problems he needs to work out if he's ever going to become a successful solid gold psycho like Jason.
And speaking of Jason Voorhees, have any of you seen the new teaser trailer for the 2009 Friday the 13th remake? Check this out:
Can somebody explain to me that last bit at the end? Why the hell was Jason Voorhees dashing towards her like that? Yes I know Jason did some running in the early Friday the 13th films, but come on... that's not the Jason we all love. The Jason we love does not run. The Jason we love does not dash. He walks and stalks and magically keeps up with his victims no matter how fast they run away. I still have fairly high hopes for the flick, but as much as I like how it's looking visually, if I see Jason Voorhees running a marathon in it, I just might have to murder somebody.
52 comments
Leave a Reply
Previous post: SpikeTV's "Scream 2008″ Awards Show.
Next post: Dr. Giggles Splattrax With I-Mockery Coming Soon! Get The DVD Pronto!