Dr. Giggles Splattrax With I-Mockery Coming Soon! Get The DVD Pronto!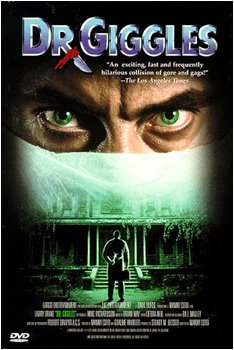 Just a quick head's up... I'm sure a bunch of you recall when I recorded a Splattrax for the 1988 remake of "The Blob" last Halloween season with my pal Mike over at Dread Central. Well, we really had a lot of fun doing it, so we're recording a new one for this Halloween and I thought I would tell you in advance so you can buy the DVD and have it by the time our commentary track mp3 goes live. This time, we've opted to go with Dr. Giggles, which was one of my favorite horror-comedy slashers back in high school. It stars Larry Drake (Darkman, Dark Night of the Scarecrow) as a psychotic wannabe doctor who escapes from a mental institution, kills people in hilarious ways and giggles as frequently as you and I breathe.
I was really happy when it was re-released on DVD in September of 2007, because the original DVD (which I still proudly own) had been out of print since 2001 and I thought it was a shame that this classic had slipped under many people's radars. Trust me, whether you download our Splattrax or not, this is a flick that needs to be in every horror fan's collection. I've seen it in Best Buy many times, but it's also on sale on Amazon.com right now for a measly $6.49, so I'd suggest ordering it from them pronto if you can't find it at a local retailer. We're planning on recording the track over the weekend, so you can expect to see it online sometime early next week. As Dr. Giggles would say, "Laughter is the best medicine."
15 comments
Leave a Reply
Previous post: Crank Mob's Halloween Ride. Plus, The New Friday The 13th Teaser Trailer.
Next post: The Jumping Boo!