Happy Halloween You Groovy Ghouls!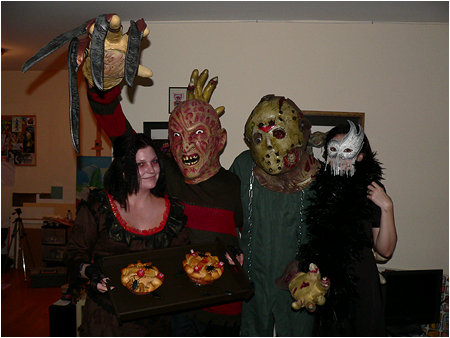 Hey guys, I just wanted to chime in and say thanks for sticking around with us here on I-Mockery for another rocktacular "Two Months of Halloween". Hope you all had fun! We're getting ready to head on down to West Hollywood for the big annual costume carnival (in the costumes you see up above) and I hope you'll all be going out to do some serious trick-or-treating or visiting some spookhouses tonight. If not, you guys should at least hand out candy at home and have yourselves a dandy o' horror movie marathon. Leave a comment and let us know what you're up to tonight!
Also, there's a little bit of a Halloween surprise for you after the jump, so check it out!
Before we head out, I want to say that I had intended to release a new Halloween flash game called "MonsterTime", but we didn't get to complete it in time and we want to make sure the game is up to our standards before we give it an official release. However, for you I-Mockery Blog readers, I decided to upload a semi-functional demo of the game which shows some of what we're planning on doing. It only has one of the enemies (M. Myers) and a few of the monsters you can build. If you've ever played the classic arcade game "BurgerTime", you'll be able to figure this one out pretty fast. You move around with the arrow keys and can also attack by pressing Z or X. Again, this is a super-early demo with a lot of stuff not working properly and a lot of stuff missing from it, but I hope you enjoy this lil' teaser anyway. What we have envisioned for it should be a really fun Halloween themed game when it's all said 'n done. Let us know whatcha think.


CLICK HERE TO LAUNCH THE MONSTERTIME DEMO
Ok I'm out for some spooktacular fun... have a Happy Halloween guys!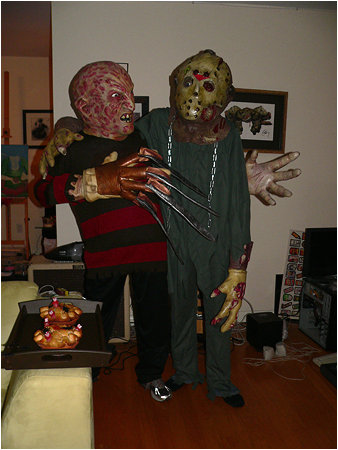 44 comments
Leave a Reply
Previous post: We Were Zombies Once… And Young.
Next post: The Post-Halloween… Post.