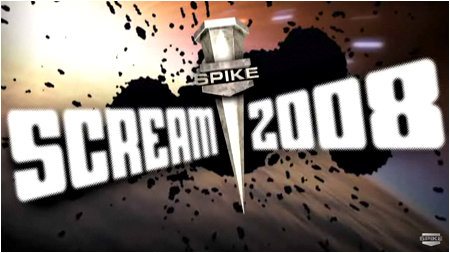 So the other day Spike TV invited me to come out to their 2008 Scream Awards show and who was I to say no to that? If you haven't seen it before, it's a fun awards show that pays tribute to our favorite side of Hollywood: Horror / Sci-Fi / Comic Book / Action movies. As I was crammed in with the rest of the press on the red carpet, I spoke with a variety of entertainment personalities who were nice enough to stop by for a chat. People such as Jess Weixler, James Remar, Anna Walton, Amanda Righetti, Marilyn Manson, Seann William Scott, and the legendary Stan Lee. Hit the jump to see our footage from the red carpet... (more...)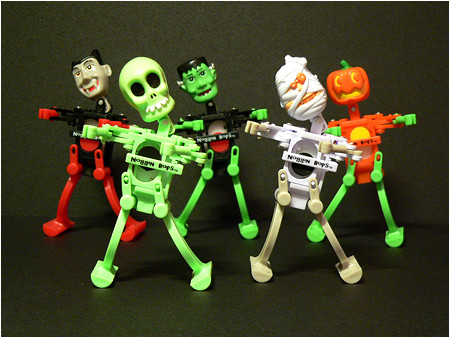 I've always been a sucker for spooky wind-up toys, and I'm sure many of you remember the Harbingers of Bad Luck from a few years ago. Well, take just one look at the new toys pictured above and I'm sure you'll agree that they're among the greatest Halloween wind-ups ever created. They're called "Spookies" and are a part of the Noggin Bops wind-up toys series. And man oh man, do these things bop with the best of 'em as you'll see shortly. But first, I need to introduce you to each character.
The vampire is "Drac". The monster is "Frankenhead". The pumpkin is "Jack-O-Bop". The skeleton is "Skully". The mummy is "Wrapper". There's also a witch named "Cackle" but I haven't found her in stores... yet. Ok, now that you've all met, I'd like to share my lil' Noggin Bops "Spookies" Halloween tribute video where these toys show off just how well they can bop to a good tune. (more...)

Are you hungry for some Halloweeny treats with an artistic flair? You're in luck, because Re is back to report on her experience with Crayola's new "Boo-Licious Brownie Kit". Take it away Re!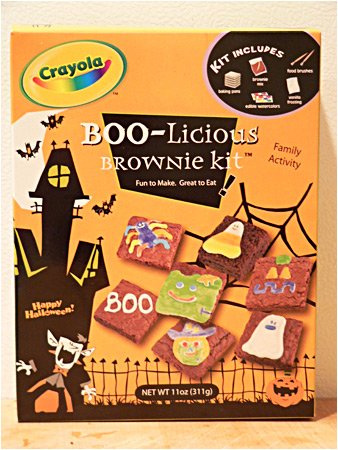 Rog and I found this brownie kit at Target and I decided to give it a try since, as I said in my last post, I'm trying to be devilishly domestic this Halloween season. The kit seemed fun enough and I thought it looked like it would be pretty easy to do. (more...)


Hey all, I just wanted to let you know that we're officially canceling Max Burbank's "Scary-Ass Trading Cards" Series III set for this Halloween. I'm sorry to report that Max's father recently passed away and the last thing he probably feels like doing is writing humorous material at the moment. That's why you haven't seen any new material from him on I-Mockery this Halloween season. Tons of you collect those cards each year and I know you were looking forward to them, but given the circumstances, I'm sure you all understand. Believe it or not, Max really wanted to dive right back in to working on the cards (despite my telling him not to even bother) because he didn't want to let you guys down, but it proved to be too difficult. Just shows you what kind of a guy he is... always thinking of others before himself.
Please join me by taking the time to leave a comment in the blog to extend your best wishes to Max and the rest of his family.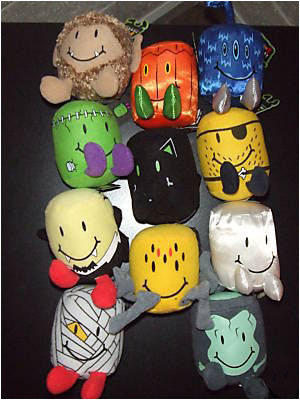 I met a friend of mine for lunch at a Sonic Drive-In the other day, and we noticed that they have a special promotion in the kids meal right now: Spooky Tots! Seen here by row are Were Tot, Pumpkin Tot, Monster Tot, Franken Tot, Kitty Tot, Pirate Tot, Count Tot-ula, Arachni-Tot, Ghost Tot, King Tot's Mummy, and Skele-Tot. My friend loves cute little things like this so she just had to buy up several of them.
Why am I mentioning little stuffed toys in the shape of tater tots, you ask? Well, aside from giving credit where credit is due for having a decent Halloween promotion in their kids meals, I fucking LOVE Ghost Tot. Because while all the other ones vaguely resemble what they're supposed to be so you can tell just by looking at them, you really need to hear Ghost Tot's name to have any fucking clue what he is. Otherwise he's just a big fat and happy marshmallow. They could recycle this guy at any time of year and he'd be appropriate. They could shoehorn this guy into absolutely any promotion at all. He's like the bastard stepchild tot. I respect his lameness.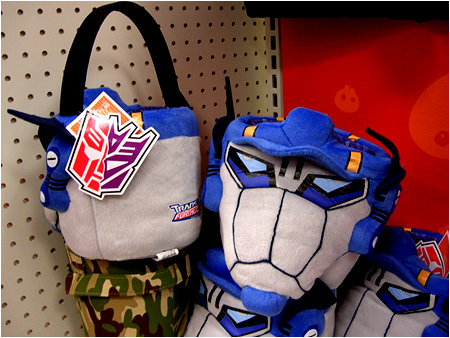 I've sung many praises about Target and how well they handle Halloween season every year, but this particular item of theirs isn't going to receive any high marks from me. Believe it or not, what you're looking at is supposed to be Optimus Prime's head as a trick-or-treating pail to place your candies in. Sure, it's not the greatest idea anyone's ever had for a Halloween candy container, but it's the execution of said container that boggles my mind. It's as if they tried to combine the faces of Optimus Prime and Alf.
Now, we all know that any self-respecting trick-or-treater wouldn't be caught dead with this thing. If you're going trick-or-treating, your candy collecting weapon of choice has got to be a pillowcase. Accept no substitutes. Furthermore, if you see anybody with that lame pail, you are hereby instructed beat them to a pulp and steal what little candy they were able to fit inside Optimus Anteater's hollow skull. I don't even care if it's a little kid walking around with this atrocity in his or her hand... it is your duty as an official Halloween representative to uphold certain standards of quality. If you have to beat up a kid here 'n there to keep those standards intact, then so be it.
« Older Entries Newer Entries »