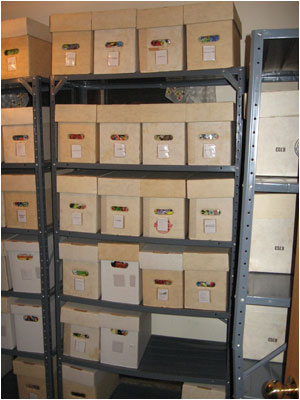 There are some people who think that I read too many comics, and though I may not personally agree with them, I have to admit that they might just be right about that. That's not my collection pictured up above, (I don't have quite that many comics), but I do have a lot.
In fact, RoG was so worried about my excessive comic book habit, he got someone considered to be something of a comics authority figure to record a special message for me, expressing his concern. Hit the jump to check it out. (more...)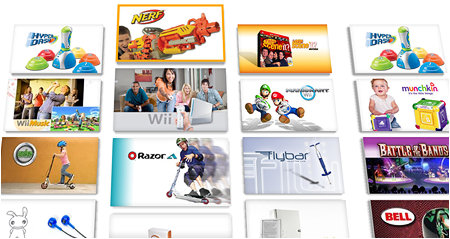 So Amazon has ramped up their site for the coming Christmas season with an all new interactive Holiday Toy List, and it sure is flashy. So flashy that I get motion sickness if I look at it for more than just 20 seconds straight. I'm all for making the holiday shopping experience easier, and chances are I'll do most of mine online once again, but this particular interface just isn't cutting it for me. Give me simple pages where I can sort the items by price, type, or what have you... I can deal without the queasiness and the pseudo-iPhone interface.
Fortunately, the sour stomach wasn't all for nothing... for thanks to Amazon, I have now learned about what just might be the greatest Power Wheels ATV ever made: (more...)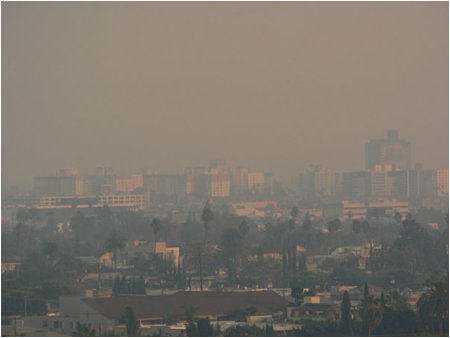 I was gonna go walking around outside today. Yep, I was planning on doing exactly that until I stepped out and felt like I had the black lung as soon as I took a breath. While our place isn't in danger of being hit by the fires, the smoke is still blanketing us along with the rest of the city right now as you can see in the above photo taken from our rooftop. So yeah, I think I'm just gonna stay in tonight, get some work done and then catch the latest episodes of Dexter and True Blood. Are there any other mockers living in California? Hope you're successfully avoiding the black lung as well.
"When the hills of Los Angeles are burning, palm trees are candles in the murder wind..." (more...)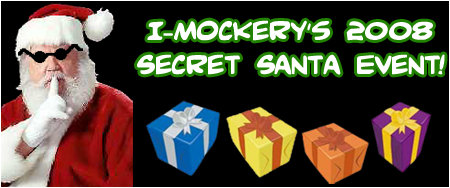 Hey guys, just a quick ho-ho-ho-head's up for ya today. Our annual Secret Santa event on the forums has just begun, so if you'd like to participate in some good old fashioned holiday gift giving (and receiving) with other I-Mockery members, be sure to sign up in the thread! The earlier you sign up, the better... especially if you're a relatively new user since there are some verification steps you'll have to go through. And yes, if you live outside of the U.S. you can still participate in the event, no problemo. Furthermore, if you participated last year, all you have to do is follow the simple sign-up procedure and you'll be in. By the way, I'd like to extend a big thanks to Zomboid for helping keep the event organized this year.
The deadline for signing up is November 24th, so hop to it!
On an unrelated holiday note, I just tried some Dreyer's "Limited Edition" Peppermint Ice Cream for the first time. Damn is this stuff good! You can bet your jolly little asses that I'll be filling up quite a few moose mugs with it over the next month and a half. I still need to track down their limited edition Pumpkin, Apple Pie and Eggnog holiday flavors though. Kinda sucks this stuff isn't available all year round.
So what holiday treats you guys are looking forward to in particular this year?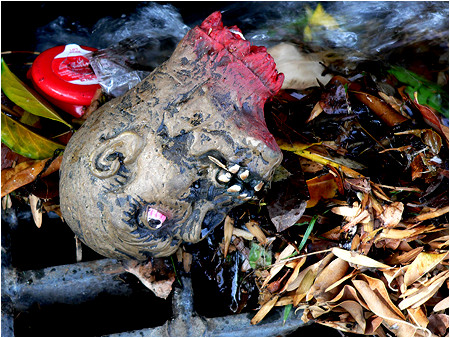 Early last week I was out walking and I noticed something strange lying on the ground near a sewer grate on the other side of the road. When I walked over to get a closer look, I realized it was a discarded novelty zombie head from Halloween. The day after Halloween, we had a big rainstorm here in L.A. (which is always a rare treat), and it had apparently washed this foam-stuffed zombie head all the way down to the bottom of my street. Something about seeing it just helplessly lying there demanded that I get some photos of it. A simple severed zombie head lying on a sewer grate amongst the leaves, grass and trash as the water flowed behind it and people walked on by while not even taking the time to stop and appreciate it. It almost felt like I had made a discovery that nobody else new about. A poetic goodbye to Halloween 2008 if you will.
Every day since I first discovered it on the ground, I've been walking by my zombie head always smiling as I passed it. Unfortunately, he did eventually make his way into the sewer, but I like to think that he floated off somewhere and is now providing somebody else with daily smiles. Thanks for making my recent walks all the better, Sewer Zombie Head. You will be missed.
Hit the jump to see some more photos that were taken of the Sewer Zombie Head. (more...)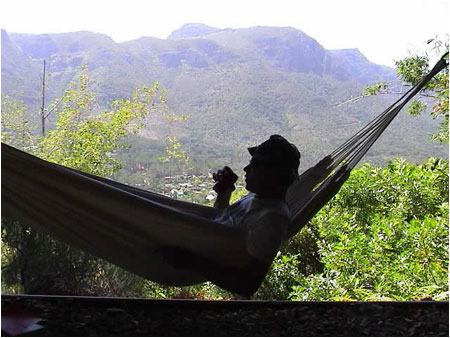 Alright, you bastards, here's how it is. I am taking the whole month of November off. Don't even think about trying to stop me either. Oh, I'll still be doing Weekly Reviews and Blog entries here and there, but no proper articles. You see, I need a much deserved break, especially after our insane two-month Halloween season. Much as I love writing for I-Mockery, it cuts quite a big chunk into my free time (usually eats up my whole Sunday). And I don't want to get burned out, so I'm taking a little break, a holiday, a furlough, a hiatus, a sabbatical, a respite, a recess, a liberty. A vacation.
Let me tell you something. I have been playing Bioshock, a game that most people could probably easily beat in a weekend, since January. There is something wrong here. Looking back at my save game dates, it appears that I find the time to play this game roughly one night a month (and this is definitely a game you must play at night, thems the rules). I also have probably 30 other video games I bought (it was on sale!) and have never played. Some of them date back years, sadly. (Yes, I am stupid with my money). I will never play them all. I know this. I have a stack of hundreds of unread comics that's probably bigger than some of your entire collections. It includes entire series (Doom Patrol, Shade the Changing Man, Animal Man, and over 100 issues from the middle of Hellblazer, among many others). So don't you sass me none! Don't you sass me! (more...)