Amazon's New Holiday Toy List Makes Me Nauseous. Plus, The Power Wheels A.T. Rex!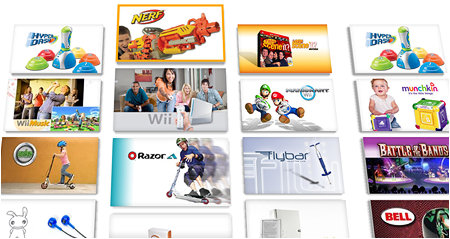 So Amazon has ramped up their site for the coming Christmas season with an all new interactive Holiday Toy List, and it sure is flashy. So flashy that I get motion sickness if I look at it for more than just 20 seconds straight. I'm all for making the holiday shopping experience easier, and chances are I'll do most of mine online once again, but this particular interface just isn't cutting it for me. Give me simple pages where I can sort the items by price, type, or what have you... I can deal without the queasiness and the pseudo-iPhone interface.
Fortunately, the sour stomach wasn't all for nothing... for thanks to Amazon, I have now learned about what just might be the greatest Power Wheels ATV ever made: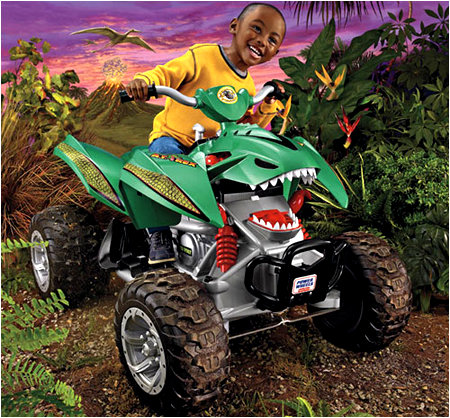 Behold the Fisher-Price Power Wheels A.T. Rex! You guys know I'm one of those people who thinks most of the toys from yesteryear are better than the ones we're seeing these days, but there are always exceptions to the rule and this is definitely one of them. You can have your Barbie Corvette, you can even have your Power Wheels Bigfoot... the AT Rex clearly the zenith of all the battery-powered ATV toys as far as I'm concerned. Just look at that beauty!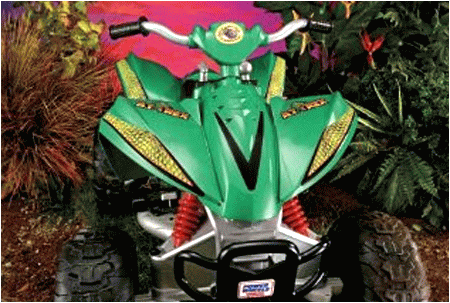 Not only does it put any other kid's bike to shame, it actually has chomping action jaws along with angry glowing red eyes. It even growls. A car that growls!!! I would have MURDERED for that thing when I was a kid. Hell, I'm tempted to murder for it NOW. You can't tell me if this thing went more than 5mph you wouldn't want to commute to work on it. You'd be king of the roads! Pow-Pow-Power Wheels really need to start making larger models that adults can ride.
34 comments
Leave a Reply
Previous post: Where The Hell Is Smokey The Bear When You Need Him?
Next post: Pretty Much The Most Awesome Thing Ever.