Hallmark's Pac-Man Christmas Ornament Has Arrived!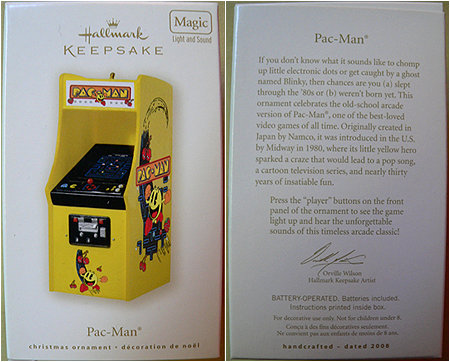 If there's one thing Christmas trees have been lacking all these years, it's miniaturized versions of classic arcade game cabinets. Thankfully, the people at Hallmark have decided to fill that void in style with their new Pac-Man Christmas keepsake ornament. Not only is it a fantastic reproduction of the classic arcade cabinet (though I would've preferred the cabinet original artwork), but it actually lights up and plays sounds from the game. We're not talking cheap sounds here either, these are the original sound effects taken directly from the arcade game. At $18.50, the price tag is a bit on the steep side, but that's a small price to pay to have your tree adorned with all this illuminated retro gaming goodness isn't it? The only way they could've made this ornament better was if it played a few animations from the game itself or they actually made it playable. Hey, I can dream. Suffice it to say, until you have this new Pac-Man ornament in your possession, you can consider the arduous task of decorating your tree to be incomplete. Hit the jump to see the Pactacular ornament in action:
I dunno about you guys, but I hope to hell Hallmark decides to release more of these video game ornaments. I'd love to decorate my tree with an entire row of arcade cabinet reproductions such as Zaxxon, Donkey Kong, Space Invaders, Frogger, Dig Dug, Galaga, Q*Bert and of course, Ms. Pac-Man. Come on Hallmark, don't let us classic gaming fans down now... you created this desire and now it's time to deliver the goods. Please don't force us to make our own ones.
So how about you guys? Do you own any video game themed ornaments? Are there any video game ornaments in particular you'd like to see produced?
33 comments
Leave a Reply
Previous post: Pretty Much The Most Awesome Thing Ever.
Next post: Where Am I Doing All Of My Christmas Shopping? At Crazy Gideon's!