Looks Like Christmas Came A Little Early In Gingerbread Man Land This Year!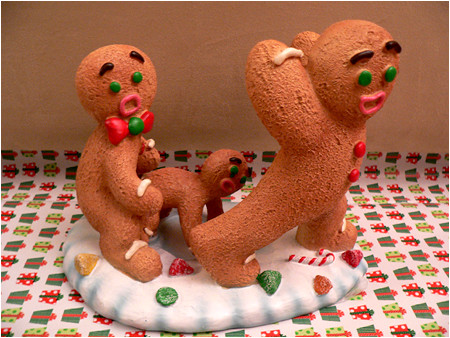 So Re and I were at the grocery store the other day when we stumbled upon this amazing sight. We simply couldn't believe it. No, your eyes do not deceive you - this is indeed a Gingerbread Man Rape. You can forget about those traditional nativity scenes with the baby jeebus... this will now forever be the centerpiece of my Christmas holiday seasons!
Ok, so I'm sure you're wondering why the hell a grocery store would sell such a thing or why anybody would even make it. Well, the truth is, this isn't what was intended, it's just how it was left out on display in the grocery store. It's actually a novelty holiday wine bottle holder, but whoever put it out on display in the store clearly had different intentions. Without a wine bottle in place, we see nothing but hilarity and horror as a helpless little gingerbread man is being raped from behind. To add insult to injury, while being raped, the little guy is being forced to stare at the bare ass of the gingerbread man in front of him who is absolutely elated about the successful raping and humiliation taking place. Ah rape... isn't that what the holidays are really all about?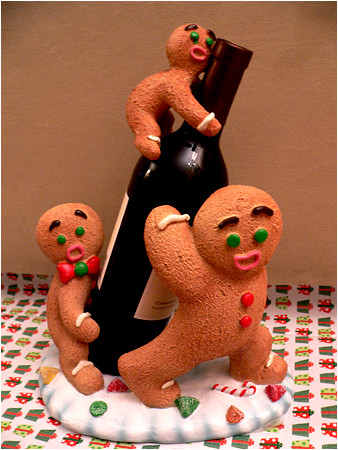 As you can see, it takes on a completely different meaning when the wine bottle is in place. Well, I suppose the wine bottle could be misconstrued as a giant gingerbread man phallus, which the small gingerbread man is taking a ride on... but that's a bit of a stretch. I, for one, will never use this as a wine bottle display. It clearly has a much greater purpose in my home. And that purpose? To educate people about the horrors of holiday rape.
And to those of you who wish your grocery store sold gingerbread rape displays, you're in luck! I managed to track down a web site that sells this fine wine holder should any of you want to proudly exhibit it in your homes. Click here to see. Merry Christmas!
39 comments
Leave a Reply
Previous post: Neon Spray Painted Christmas Trees?
Next post: A Healthy Dose Of Holiday Cheer.