A Healthy Dose Of Holiday Cheer.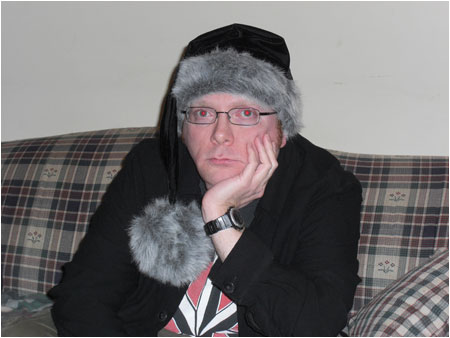 December 1st arrives, and in my little corner of the world, a coworker has promised (not threatened, promised) to bring in all kinds of stupid little holiday-themed noise makers, dancing animatronic Santas and penguins that sing about a jingle bell sockhop or some shit, simply because she knows how much it annoys me. Elsewhere, a Wal-Mart employee is trampled to death by a wild, rabid herd of normally slack-jawed, placid cattle, temporarily roused into an unfamiliar state of frenzy as they salivate over unimpressive "bargains" they could find any time of year if only they weren't too lazy to hunt for them. Elsewhere, a child cries, as a man in a trenchcoat hides a paper bag filled with warm shit inside a McDonald's, underneath their Christmas tree display. A nun walks down a busy city sidewalk, set suddenly ablaze by a faulty string of Christmas lights; unhinged from their rooftop support, they swing down like a pendulum of fiery electrodeath and engulf her in their holiday cheer. And within an uncomfortably close walking distance from your home, a clown dressed like a hobo, or perhaps a hobo dressed like a clown sits, muttering and shaking in piss-stained trousers next to a half-empty bottle of brandy, clinging to a candy cane as if it were life itself, or the memory of a pretty girl he once knew.
These are the scenes in my Christmas nativity. Okay, so that doesn't really make sense, calling it a nativity, since it has nothing to do with birth, but it sounds better than "Christmas diorama", so just work with me, will ya?
I really hate this time of year. Of course, that wasn't always the case. I too used to be a child with joy in his heart and a sparkle in his eye, awake with the sweaty, shaky, junkie anticipation over what new G.I. JOEs and Transformers may appear under the tree the following morning. But somewhere in there, I grew up, and I started noticing that this time of year brings out the worst in people. Go into any store on Black Friday (or hell, try to even get in your car and leave your driveway) and you will see exactly what I mean.
I still like Christmas Day itself though. Getting together with family (or friends) and exchanging gifts is perfectly fine. But hearing my coworkers yammering on about it for weeks on end beforehand is not. Being unable to go into public at all without my ears assaulted by crappy variations of the same dozen horrible songs is not. Not being able to go anywhere without sitting for hours in Apocalypse evacuation traffic is not.
And now we're up to what is quite possibly the loneliest, most depressing, and my least favorite day of the year: Christmas Eve. While just about everyone I know is off doing things with their family, I sit at home by myself, because my family stopped doing anything special for Christmas Eve years ago. Oh, my parents live twenty minutes away, so if I really wanted to go and watch "American Idol" or whatever prime time bullshit they'll be watching, I could join them. But that would be even worse, because I would then have no choice but to stab my eyes and ears out. But hell, I have a family and I find it depressing. I can only imagine how bad it must be for other people who don't have anybody to share the day with.
At least it's almost over though. Then we only have to deal with New Year's Eve (or "Amateur Night" as a friend of mine calls it), which only serves to remind that another year has gone by in which only the tiniest portion of my goals were accomplished, my dreams realized. Another year pissed away into the void of wasted time.
Sorry if this "brings you down", but I'm afraid it's my job to do so. (No really, it's in my contract). We kind of have a good cop, bad cop thing going here and I threatened to stab Max and Dr. Boogie if I didn't get the bad cop position, so there we have it. Anyway, I do hope you guys have a Merry Christmas, Happy Hanukkah, Fantastic Kwanzaa, or Spiffy Wookiee Life Day, whatever it is you happen to celebrate (select one, and only one of the above--don't be selfish). Keep it secret, keep it safe, and don't do anything I wouldn't do.
36 comments
Leave a Reply
Previous post: Looks Like Christmas Came A Little Early In Gingerbread Man Land This Year!
Next post: The Greatest Gift Of All: No More Head Cold! Thank You Santa.