A Little Birthday Trip To San Luis Obispo: Bubblegum Alley And Madonna Inn.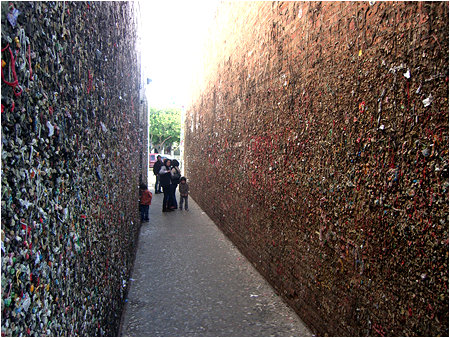 As I mentioned recently, my birthday was the day after Christmas, and since L.A. practically becomes a ghost town during the holidays each year, we decided to take a little road trip of our own because the prices of airline tickets were inexplicably astronomical. One of the places I had been intending to visit for a long time was San Luis Obispo because it was home to Bubblegum Alley. When we did our Great American Roadtrip a few years back, I remember reading about this awesomely kitsch little attraction in California. Unfortunately, it wasn't one of the towns we'd be able to hit during our epic cross-country journey, so I swore we'd visit it at some point in the future instead. Now I'll take any excuse I can get to drive up the incredibly scenic Pacific Coast Highway anyway, and since I didn't want to stay home for my birthday, this was finally the perfect excuse to pay San Luis Obispo a long overdue visit.
As you can see from the photo above, Bubblegum Alley certainly lives up to its name (click here for a larger view). Located off of Higuera Street, I was surprised at how they don't even make a big deal about it. There aren't any signs alerting each passerby to its existence, and it's definitely not something you'd notice from your car. I can only wonder how many people have driven through this small town not even realizing they missed the opportunity to view one of mankind's greatest achievements: an alley completely covered in bubblegum.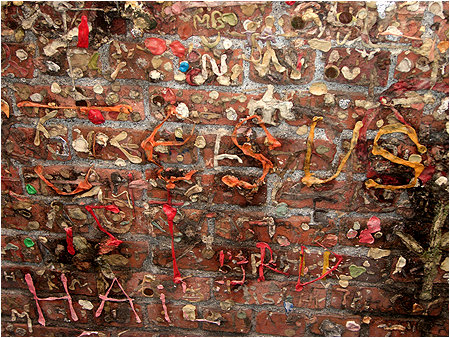 Walking through the alley, you can't help but be simultaneously overcome by a sense of awe, amusement and disgust. What amazed me was how many people walked through the alley and actually touched various wads of gum on the walls. It was as if these people didn't believe what they were seeing and had to touch the gum to make sure it was real. I, however, needed no such verification for I actually tend to trust my eyesight.
In addition to the random wads, many people actually formed words and designs with their gum. I'm sure Jesus appreciated the classy tribute seen in the photo above.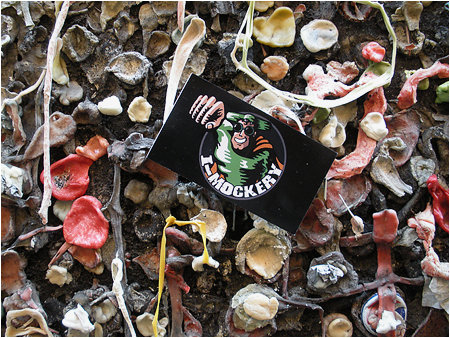 Another thing a lot of people seemed to be doing was sticking their business cards onto the walls o' gum, and who was I to break with tradition? I gotta say though, I really do wish I had brought some Big League Chew with me so I could've contributed something more impressive than a business card to the wall.
Amusingly enough, many of the local retail shops have big gumball machines strategically placed in front of their shops so tourists can make their own squishy contributions to the alley. I should note that some people actually hate Bubblegum Alley and consider it to be more of an eyesore than an attraction. Hey San Luis Obispo. It's me, RoG. I've got news for ya. If it wasn't for Bubblegum Alley, I wouldn't have even made the trip up to your little town for my birthday. So yeah, don't even think about ever getting rid of Bubblegum Alley. It's an ongoing work of art created for the people, by the people. Chew on that.
In addition to Bubblegum Alley, Higuera Street had some great little shops I enjoyed checking out. Captain Nemo Games & Comics really impressed me with how much vintage gaming gear they had in stock. It's one of those places I could easily spend an entire afternoon at while sifting through all of the merchandise. I actually managed to find some old Intellivision cartridges on the wall at reasonable prices there. Was hoping to find a Vectrex system, but unfortunately they didn't have one in stock at the time.
Then there was a shop called Therapy which had a nice variety of knick-knacks including a massive 1lb Sugar Daddy (guaranteed to send you into a diabetic coma) and Domo-Kun energy drinks (which I've yet to try, because I can't imagine Domo tastes all that great) among other amusing things that nobody really needs but everybody wants. Definitely a place worth checking out if you happen to be in town.
Lastly, there was Tom's Toys, an independent bi-level toy store with more Playmobil products than you can shake a fist at. It's the kind of place that has a lot of charm to it because they carry a lot of things that most cookie-cutter retail toy shops simply wouldn't bother with. And nothing drives that point home more than their fantastic Christmas window displays:
First was this great tribute to that classic country Christmas tune we've all heard a bajillion times, Grandma Got Run Over By A Reindeer. Nowhere in sight was the offending reindeer to be found, but all the evidence was right there before my eyes.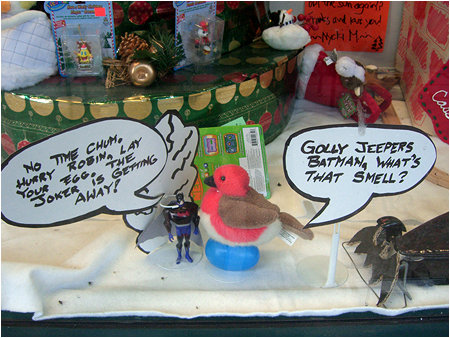 On the opposite window, there was this fantastic scene paying homage to one of my favorite playground song spoofs of Jingle Bells. In this scene, however, Robin has taken on the form of an actual egg-laying Robin instead of the boy wonder. And somehow, this display is still way less insane than Frank Miller's treatment of the goddamn Batman.
After we were done exploring the town, we checked in at our hotel - the Madonna Inn. Now any of you who have heard of this place know that it's famous for having some truly insane rooms. Some look like caves, others look like palaces. Unfortunately, we didn't get to stay in any of those immaculate rooms because this trip was a last minute decision of ours and they only had two rooms left. We ended up staying in the "Swiss Chalet" room, which was supposed to make you feel like you were staying at a cabin in the Swiss Alps, but instead felt like we were spending way too much money on a room with very little novelty to it. I have no problem spending some extra cash on a room for my birthday, but if I ever stay at the Madonna Inn again, I'm gonna plan it way in advance so I can get one of the more bizarre rooms that look like a cave. It's just not worth the price unless you're getting one of those rooms since there are other nearby hotels that are right on the ocean and provide you with far better views and amenities.
The other main attraction at the Madonna Inn is their Gold Rush Steak House which goes above and beyond with decorations come Christmas time each year. Check it out...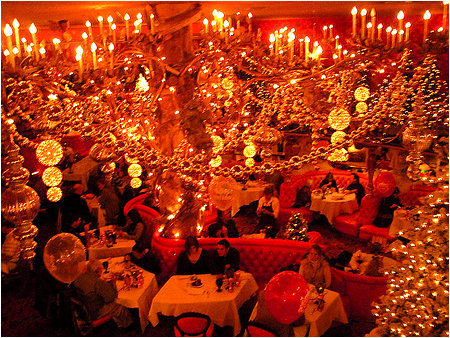 As you can see, this place must rack up one hell of a monthly electric bill, so it's not surprising they're a bit overpriced. Still, considering how many Christmas decorations they had on display, it was worth checking out.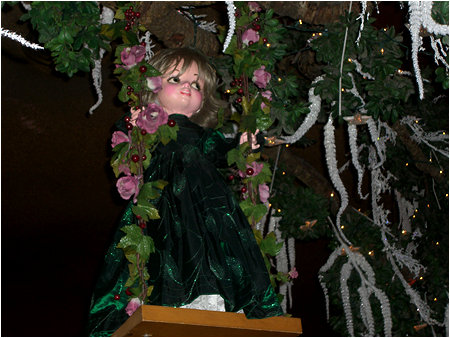 Some of the decorations, such as this one, felt less Christmassy and more creepy than anything. Amidst all the lights, Santas and snow-covered trees, this little demon cherub girl just swung from the ceiling with those cold dead eyes that just screamed, "I'm going to come to your Swiss Chalet tonight and murder you in your sleep."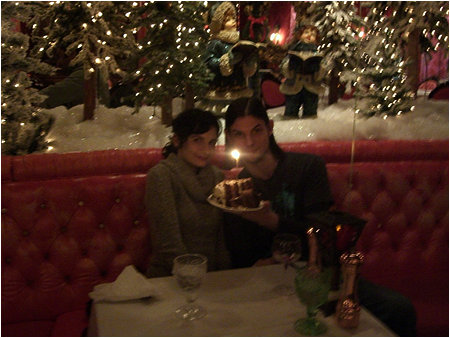 Our friends told us this photo was "magical" looking, so I'm including it in this post. A note to anybody who goes to the Gold Rush Steak House: tell them it's your birthday and they'll give you a hefty slice of their black forest cake and then you too can take your very own magical photo. In all honesty, it was the best part of our meal.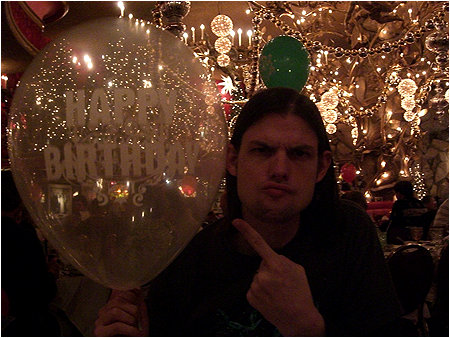 They also gave me a birthday balloon, but I left it behind. The way I figure it, it was my way of paying the demon cherub girl to not track down and murder me.
All in all, a fine birthday getaway if I do say so!
25 comments
Leave a Reply
Previous post: Obligatory New Year's Eve Thread.
Next post: Where In The World Is Protoclown?