Why You Gotta Do Us Like That, Joaquin?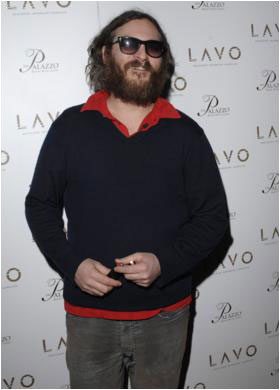 So have you guys heard that Joaquin Phoenix is a rapper now? Seriously. I'd heard that he was going to quit acting and get into music some time ago, and I immediately thought "Oh cool, obviously he was inspired by his performance in Walk the Line, and decided to start up a band, and unlike every other actor who has ever decided to branch out into music, there's the slim chance that he won't suck because of his strong singing performance as Johnny Cash". Little did I know at the time that he was talking about rap.
Don't get me wrong, I like quite a lot of rap, but when I first heard that's what Joaquin would be doing I knew that this had the potential to be very, very bad. I like Joaquin, and I do not want to see him become a laughing stock. But I am afraid we are starting to see the horrible downward spiral of someone who by all accounts seems like a pretty cool and likable enough guy.
After seeing a picture of his current "situation", I thought perhaps the troubled economy had even taken its toll on him, forcing Mr. Phoenix to live in the streets, begging for bread crumbs and change from Vegas casino goers. But no, this is apparently some kind of personal "style choice". Now, I realize that oftentimes celebrities will make themselves look like shit when they go out in public so as to be unrecognizable, but this here is something very different. This is a horribly botched attempt at reinventing himself. Or someone who clearly does not give a shit.
And then I saw the video of his recent three-song performance in Vegas. Granted, the sound quality is not very good. Maybe his skills as a lyricist are unmatched--I wouldn't know because I couldn't make out any of the words. But the crowd sure didn't seem to be that stoked about it. And what little I did hear did not fill me with confidence. And then he leaves the stage only to trip and fall into the crowd. I think that says it all right there. I was really hoping that he'd turn out to be a good rapper, but I'd say that's looking pretty unlikely at this point.
What do you guys think of all this? And what's your favorite embarrassing actor-turned-"musician" story? There are so many to choose from.
50 comments
Leave a Reply
Previous post: Where In The World Is Protoclown?
Next post: Olvera Street Rules.