Friday The 13th Parts 1-3 DVD Re-Releases.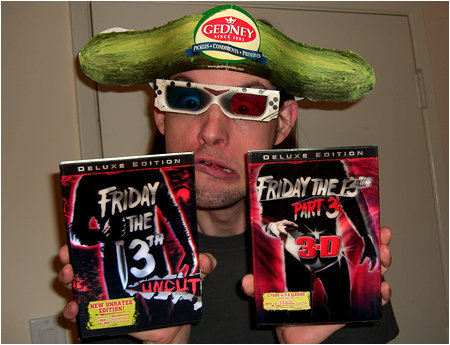 With the 2009 remake of Friday The 13th right around the corner, Paramount has just re-released the first three films on DVD again and sent me some advance copies. Normally, this wouldn't matter at all to a guy like me who's owned the box set for ages now, but there are a few good things about some of these re-releases. First off, as you may already know, all of the Friday the 13th films were forced to be heavily edited by the MPAA back in the day in order to get an R rating. As a result, fans never got to see the full extent of some of Jason Voorhees' most memorable kills. Well, Paramount has finally started to give the fans some of that footage back.
For the first time ever, they've finally released Friday The 13th Uncut. All of the death scenes have been fully restored, so if you've been yearning to see extended footage of Jack (Kevin Bacon) getting an arrow shoved through his neck, this is the DVD for you. It also has some really solid featurettes in addition to all of the restored footage.
Next up is the Friday the 13th Part 2 DVD re-release. Now, when I first heard they were releasing the uncut version of part 1, I was really excited about it because I figured they'd be giving the same treatment to all the other DVDs soon enough. Looks like I thought wrong. While part 2 does include some new extras, it's still the same old R-rated version of the movie we've seen for ages. Talk about dropping the ball. We know they have the uncut footage, so I can't imagine any reason why they wouldn't include it on this DVD like they did with the original. Gah! Guess we'll still have to wait a while before we can see Jason wearing that potato sack on his head and killing people in his fully restored glory. Bad move, Paramount.
Last, we have Friday the 13th Part 3. Again, they dropped the ball by not making this the uncut version... but there is still good news with this one. They finally gave it a proper 3-D release! Yep, it actually comes with the glasses so you can watch all those hilariously cheesy moments, such as the infamous eye popping scene, in true 3-D. Having seen it in the theater, I assure you, seeing this movie in 3-D is the ONLY way to experience it. To be completely honest, I'd buy this movie again just so I'd have a back-up copy of that amazing theme song. Don't deny it, you know it's one of the all-time greatest horror movie themes ever recorded. The 3-D glasses are even styled after Jason's mask... so it's nice they went the extra mile there and didn't just throw in a random pair of 'em. Then again, if you want to watch the movie with more than one friend, you'll still need to pick up some extra pairs since they only include two with the DVD. Actually, screw that. Any friend worth his or her salt will own a copy of this DVD too, and thus, they should have their own pair of official Friday The 13th 3-D glasses.
All three of the DVDs come with animated lenticular covers, and they look better than your average release, but it's still all new artwork and I'd much rather have the original theatrical poster artwork on the covers instead. That's one of the best things about the A Nightmare On Elm Street box set, each of the DVDs has the original badass poster art. I'll never understand why companies feel the need to redo cover art that was perfectly fine the way it was. I've ranted about this in the past though, so I digress.
I also attended a screening of the new "His Name Was Jason" documentary, which is coming out on DVD this week as well. It wasn't too bad, and it's amusing seeing special effects guru Tom Savini host it as he walks through Universal's Halloween Horror Nights "Camp Blood". For hardcore horror fans, the documentary doesn't really reveal anything we didn't already know, but it's still a lot of fun seeing characters from all the movies talking about it. I can officially say that Shavar Ross (aka: Reggie from Part V) is just as awesome as he was back in the day. I'd love to see him put on that red jogging suit again and duke it out with Jason. This isn't one I'll probably bother to buy, especially since I own the fantastic Friday the 13th "Crystal Lake Memories" book, but I'd still recommend renting it if you're a big fan of the series.
All in all, there's plenty o' stuff for Friday The 13th fans to be excited about this month. I'm hoping the remake is a good one and doesn't turn out to be a steaming pile like the Halloween remake was. It looks pretty good so far though, so I'll be keeping my fingers crossed. As far as the DVD re-releases go, I'd say you should definitely get parts 1 and 3, but don't even bother with part 2. Let's hope Paramount gets it right with all the future Friday The 13th DVD releases by making them completely uncut. There's simply no excuse not to and I want to see that amazing uncut head-crushing scene from Friday The 13th Part VII: The New Blood. Sure, you can see it on the "extras" disc that comes with the box set, but we fans deserve to have that footage fully restored and included in the movies rather than as grainy old footage on a different DVD. We also deserve to see more of Crispin Glover's amazing dance moves from part IV. Oh so much more.
Make it happen Paramount, or you'll have to answer to more than just one machete-wielding maniac.
In case you need to brush up on your Friday The 13th movies, here are a few related articles I wrote a while back:
Friday The 13th: Jason's 10 Best Kills:
http://www.i-mockery.com/minimocks/jason-10kills
Friday The 13th Part 8: Jason Takes Manhattan
http://www.i-mockery.com/minimocks/jason-nyc
Cheap Costumes - Jason X:
http://www.i-mockery.com/halloween/bag/jasonx.php
Horror Moments: Friday The 13th Part VII: The New Blood
http://www.i-mockery.com/halloween/greatest/friday13th.php
Also, let's do a quick survey here:
What's your favorite Friday The 13th film and why?
21 comments
Leave a Reply
Previous post: In Which I Confess To Not Understanding The Internet.
Next post: "David After Dentist" - A Metal Tribute.