Late Night With Conan O'Brien: Thanks For All The Years Of Laughter.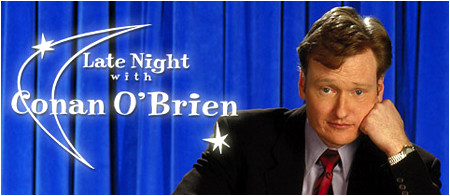 What can I say... for a big, goofy guy, Conan O'Brien is a total class act. I'm really going to miss having him keep me company late at night while I'm up working on the computer as usual. Still, I hope he does just as well on the Tonight Show as he did with Late Night. He's been a huge inspiration and one of my comedy heroes for many years now, and he really went out in style this past week. He's a brilliant comedic writer (along with the writers on his staff) and one of the most naturally funny people out there. It's been a blast seeing some of my favorite memories from the show again and it reminds me just how much I'm really gonna miss it.
But hey, now he'll be getting his pale ass burned off here in Los Angeles just like I am, and maybe I'll finally get a chance to see him in person when he takes over the Tonight Show. See you in June, Conan. Until then, however, enjoy a well-earned extended vacation.
Survey: For those of you who were fans of Late Night With Conan O'Brien, please share some of your favorite memories from the show in this thread.
55 comments
Leave a Reply
Previous post: Boo Berry Auction Antics On eBay.
Next post: My Top Tens For 2008.