My Top Tens For 2008.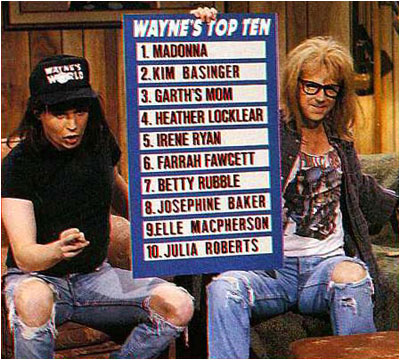 Here are my Top Ten movies, albums, and video games from 2008. I would have done comics too but I read a million of them, and my memory isn't that good. Besides, what do you do--individual issues, story arcs, titles or what? Anyway, I'm curious to see some of your Top Ten lists for last year so feel free to share your own in the comments.
Movies:
This was the easiest category to do, though I was tempted to make my number one choice take up the first five slots, because it really was that awesome.
1. The Dark Knight
2. Gran Torino
3. Iron Man
4. Burn After Reading
5. Tropic Thunder
6. Zack and Miri Make a Porno
7. Hellboy II: The Golden Army
8. The Curious Case of Benjamin Button
9. Get Smart
10. Appaloosa
Music:
I had the hardest time paring this list down to a mere ten, as there was a ton of music I bought this last year. With new albums by R.E.M., Okkervil River, Tricky, Beck, Gnarls Barkley, and TV on the Radio, not to mention new artists like Fleet Foxes, Hercules and Love Affair and Bon Iver, there was a ton of wonderful shit to pick from. But I had to think about what I've enjoyed listening to the most this last year, and what I keep coming back to over and over. Here's my list.
1. Of Montreal - Skeletal Lamping
2. Amanda Palmer - Who Killed Amanda Palmer
3. Reverend Peyton's Big Damn Band - The Whole Fam Damnily
4. The Ting Tings - We Started Nothing
5. Vampire Weekend - Vampire Weekend
6. Flogging Molly - Float
7. The Faint - Fasciinatiion
8. Juliana Hatfield - How to Walk Away
9. Flight of the Conchords - Flight of the Conchords
10. Weezer - Weezer (Red)
Games:
Apparently I haven't played many video games this year, as I could only think of five that I've actually played. (But coming from a guy who started playing Bioshock in January 2008 and still hasn't found the time to finish it, that's not too surprising).
1. Left 4 Dead
2. Mega Man 9
3. Star Wars: The Force Unleashed
4. Mario Kart Wii
5. Lego Batman
92 comments
Leave a Reply
Previous post: Late Night With Conan O'Brien: Thanks For All The Years Of Laughter.
Next post: In Which I Cast Pearls.