I-Mockery At The 2009 San Diego Comic-Con!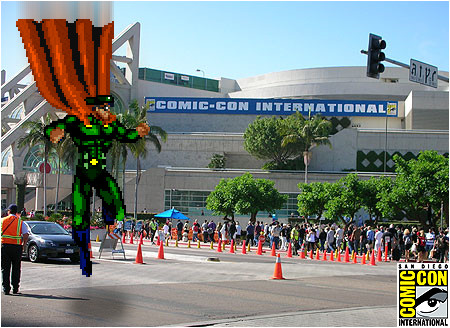 After countless years o' trying, I'm happy to report that I-Mockery has finally secured itself a table for the 2009 San Diego Comic-Con! We've been covering the convention for years and years and years and years (and years), but this is the first time our site is actually going to be a part of it. I'm not exactly sure where in the big convention center our lil' table is going to be located, but I'll be sure to bring a flare gun and fire it off every 10 minutes or so to help let everyone know exactly where we are. I'm sure the fire marshal won't have any issues with that. But yeah it's the 40th anniversary of the Comic-Con and this also just so happens to be I-Mockery's 10th official year in operation! (Alright, we've really been around for 13 years since this site was on Geocities starting way back in 1996, but I registered the I-Mockery domain and moved everything over to it in 1999 and ten years is a nice round number so let me have my celebration, ok? Ok.)
So, what does all of this mean? Well, first and foremost it means that YOU need to make some travel arrangements to come out and see us! The convention takes place in San Diego on Thursday July 23rd through Sunday July 26th. If you already registered and got a 4-day pass, you'll also be able to attend "Preview Night" on the 22nd. If you haven't purchased tickets yet, I suggest you do so ASAP because they will sell out. The 4-day and Saturday passes alone have already sold out.
I'm also happy to inform you that we're all gonna be there, not just me. Yes indeedy, Max Burbank, Protoclown and Dr. Boogie will be there with me at the table. I can't stand the thought of being around those guys for 4 days straight and I know the feeling is mutual... but these are the things we do for you, the fans. So again, you owe it to us to show up. And yes, we'll be happy to take photos with any of you guys, and I'm probably going to put Protoclown in charge of administering our "Free Convention Colonoscopy" special offer. That'll make for some great take-home photos! Don't worry, to help take your mind off of it, Dr. Boogie will thumb wrestle you while Proto does his thing. Nothing gets your mind off of a colonoscopy like a good thumb wrestling match. Words to live by.
We already have some other fun stuff planned for the convention as well. For one thing, we'll have some new merchandise for sale including an amazing poster that I can't wait to show you all. I might even print up some more of those glow-in-the-dark "Awesome" Shark t-shirts that sold out so quickly online (well except for the baby-doll size ones. Apparently very few of you are that tiny...). I'm sure I'll have plenty o' stickers and buttons on hand as well.
Another thing is I'm planning to have a playable demo or two of some of our big upcoming Flash games at the table. The 2009 Comic-Con will be the only place you'll have a chance to try out the new game(s), so there's some more incentive for you to attend (as if the rest of the convention wasn't reason enough). Still gotta figure that stuff out, but you guys are gonna absolutely love it, I promise.
By the way, for those of you who've never been, I feel I need to remind you of a very important fact: despite the misleading name, the Comic-Con has MUCH more than just comic books. True, if you're a fan of comic books, you'll be in heaven, but if you're not that into 'em, there's still PLENTY for you to do. Over the years, the convention has basically become a mega-media event. The convention center is chock full o' the latest video games for you to test out, tons of movie promotions, toys galore, incredible costumes, and some truly amazing artists as well. If anything, comics have taken a backseat to all the other crazy things going on at the convention. So yeah, the name is really misleading to some people, and that's unfortunate because they have no idea what they're missing out on.
Lastly, I want to hear what YOU would like to see from us at the 2009 Comic-Con. Do you have any merchandise requests? Is there anything you'd like to see featured at our table? Space is limited obviously, but we're looking for any suggestions you guys might have. I was hoping I could put Max in a Evil Knieval costume, set him ablaze and have him roaring through the crowds on a motorcycle to help spread the word about our site, but I'm told this wouldn't sit well with the convention officials. Guess I'll just have to scrap the motorcycle idea... but I'm not giving up on the setting him on fire part. That's still totally doable.
But seriously, we really want to hear your suggestions, so please post 'em here in the blog thread. If we like your ideas, we'll do our best to make 'em happen! It's gonna cost a fortune to do this Comic-Con thing as it is, and with the table and hotel costs, it'll be a miracle if we even break even financially. But that's not what it's about. It's about us celebrating all we've done in the past 13 years, meeting some of you guys and hopefully introducing the site to some people who never knew it even existed. It's gonna be an absolute blast.
Hope you can all find a way to make it out to San Diego for the Comic-Con... even if it's just for one day! After all, this might be the only year we're even able to do this. In the meantime, post those suggestions!
44 comments
Leave a Reply
Previous post: The New Cobra Commander?
Next post: Doc Mock's Movie Mausoleum!