Doc Mock's Movie Mausoleum!
BIG THANKS TO EVERYBODY WHO HELPED MAKE THE PREMIERE EPISODE SUCH A SUCCESS! MORE UPDATES TO COME!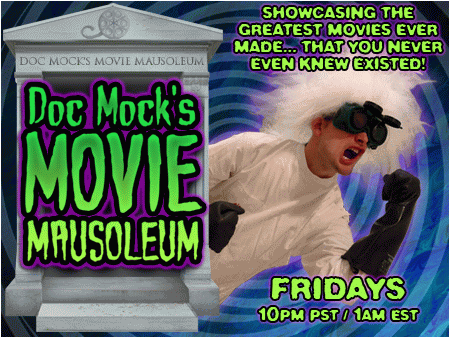 I'm sure some of you have noticed that I've been relatively quiet on here over the past month or so. Well, I'm sorry to say it's not because I've been a lazy bastard relaxing somewhere on the shores of my own private island... it's because I've been working on putting together a brand new project. And just what is this mysterious new project that has suddenly garnered your complete and undivided attention? It's a brand new show called Doc Mock's Movie Mausoleum!
Yes indeedy, I'll be hosting this new weekly web show LIVE on Friday nights at 10pm PST (1am EST) on theStream.tv. You may recall that I appeared as a guest on an episode of Coin-Op TV a while back on their network (you can watch the full episode here in case you missed it). Well, they decided to lemme have a show of my own and I really think you guys are gonna dig it. Each episode of Doc Mock's Movie Mausoleum will expose your fervent faces to a movie that you've most likely never seen before. If you have seen it, well... good for you mister fancypants! Either way, you'll want to tune into the show because a) It's live and you'll get to interact with us via our chat room as the show takes place, b) I'll have a special new guest to provide running commentary about the movie with me each week, c) There will be weekly giveaways and other surprises, and d) You know you don't have anything better to do that late on a Friday night anyway. And speaking of the chat room...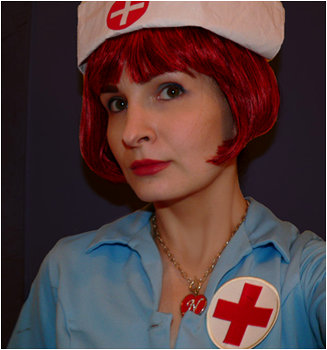 Re is going to be our resident nurse and she'll be keeping a close watch on the pulse of the chat room as she fields your questions and comments during the show. So yeah, be sure to join in the live chat on thestream.tv (along with the simultaneous broadcasts & chats on both justin.tv and ustream.tv in their "thestream" channels) when the show airs for some extra fun. Just know that she makes liberal use of the defibrillator.
Also, with any nifty new show, a proper web site for it is required by law. BY LAW! So I've gone ahead and set up the official site for Doc Mock's Movie Mausoleum at docmock.com. You can also reach it at moviemausoleum.com. That's where I'll be posting all of the future updates for the show along with some other goodies on a regular basis, and of course you can post comments & questions in the blog for me to respond to. Later this week I'll be posting a downloadable mp3 of the theme song on there (performed by yours truly), so be sure to get it while supplies last!
I also have a new Dock Mock Forum set up on theStream.tv, so please register an account on there and say hey! So that's the big news! Hope you guys can all check it out when it airs LIVE this Friday night!
45 comments
Leave a Reply
Previous post: I-Mockery At The 2009 San Diego Comic-Con!
Next post: Doc Mock's Movie Mausoleum: Premiere Episode Is Now Online!