Oh Joy! I Have Bad Sectors!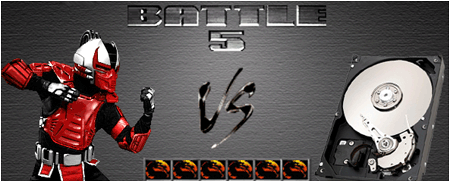 So my laptop started acting up this week and after I was unable to resolve the problem myself, I decided to take it in to the local repair shop. Well, they ran some diagnostics on it and it turns on my main hard drive is filled with bad sectors and is on the brink of death. Eugh. What a pain in the ass. I don't know about you guys, but having to reinstall everything on a computer is a major annoyance that I wouldn't wish upon anyone. I'm trying to look at the bright side here though; the computer itself is fine, it's just a $100 drive that's going bad which they'll replace and I have very recent backups of just about everything that's important to me. Sure am glad I invested in that external backup drive a while back. So yeah, at least I don't need to buy a completely new laptop or anything.
Still, I decided to blow off some steam since that shitty Seagate hard drive is causing me all this grief with its bad sectors 'n all. So rather than slam my laptop on the ground, I decided to make an animated gif to demonstrate what really happened to my drive.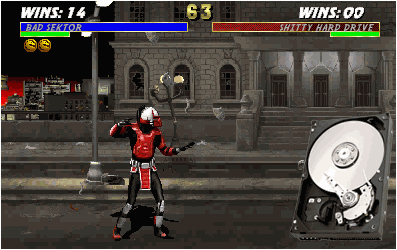 That's right, it wasn't bad sectors it was Sektor from Mortal Kombat 3. I shall forever blame him for the destruction of my precious laptop drive. Bad Sektor! BAD!
(And yes, I did spend way too much time making that animation, but at least it prevented me from smashing my computer into a thousand shards. So yeah, I'll chalk that up as "being productive".)
26 comments
Leave a Reply
Previous post: Doc Mock Returns LIVE This Friday Night @10pm PST With A New Episode!
Next post: Doc Mock Episode #6 Premieres LIVE Tonight At 10pm PST / 1am EST!