In Which I "Help" My Daughter With Her "Blog".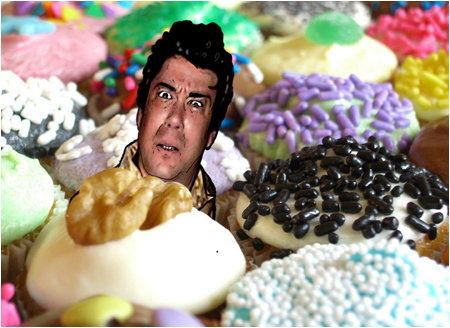 My eldest received for her birthday a cookbook devoted solely to cupcakes. She was thrilled and immediately began plotting an obsessive compulsive new hobby, to with; baking complicated cupcakes. Since this is obviously not enough, she also planned a cupcaking blog. As she brainstormed a title she became increasingly frustrated and asked me, her father, a writer, for help. Doesn't she know you, you well may ask. She does, but sometimes her memory fails her. Herewith, a list of some of the titles I suggested:
-Genocide Cupcakes

-Cupcake Jihad

-Li'l Cups o' Hitler Cake

-Hate Crime Cupcakes

-A Fistful of Cupcakes

-Kick You in the Cupcakes

-Sucking Chest Wound Cupcakes

-Rancid Pork Loin Cupcakes

-Cups of Poisonous Cake

-Not For Consumption Cup Cakes

-I Wouldn't Put This in My Mouth Cupcakes

-Li'l Debbie's Headless Torso Cupcakes

-Hidden False Tooth Cupcakes

-Spoiled Dairy Products Cupcakes

-Puscakes

-Ground Glass Cupcakes

-Serial Killer Brand Meaty Cupcakes

-Unending Vomiting Cupcakes

-Killed your Mom Cupcakes

-Test Your Will Cupcakes

-Unpleasant Cupcakes

-Kweazy Kupkakes

-Ebola Cupcakes

-Irritable Bowel Cupcakes

-Nazi, Nazi, Nazi Cupcakes

-Cupcakes for Morons

-Headcheese Cupcakes

-Hideous Eyeball Injury Cupcakes

-Psoriasis Fingers Cupcakes

-Missing Pets Cupcakes

-Sociopath Cupcakes

-Probably Cupcakes

-Ipecac Cupcakes

-Maybe Mercury Laden Cupcakes

-Them Ain't Cupcakes

-Cup-a-Soup-Cakes

-Mister Deadly Cupcakes

-You Didn't Eat That, Did You Cupcakes

-Obese Leering Registered Sex Offender Cupcakes
26 comments
Leave a Reply
Previous post: Happy BBQ & Fireworks Weekend!
Next post: Ladies & Gentlemen, I Present You "Henching".