Ladies & Gentlemen, I Present You "Henching".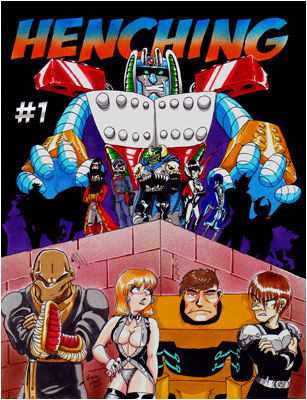 Many moons ago, I said I was putting together a comic book to have ready for the 2009 San Diego Comic-Con. Believe it or not, I wasn't lying. Through the help of this very blog, I hooked up with my wonderful artist, a talented Canadian named Sharon (check out her Deviantart page here) who had just the style and wit I was searching for. This is a project that has consumed us both (her far more than me) for the last several months, and I am thrilled to report that the comic will be printed and ready in time for the Con!
Seeing as how I'm promoting this book at the I-Mockery table and on the I-Mockery site, it seemed appropriate that I do a humor book, one which parodies the superhero genre and makes fun of many of the typical cheesy conventions you see in those comics. This book follows four friends who happen to hench for various ridiculous super villains, as they reminisce on all of the bullshit they've had to put up with in their daily lives working for those idiots and assholes.
It's a black and white book (due to time and money constraints) and it'll cost ya three duckets, because I want to be able to pay my artist decently for her hard work. The initial print run will be available at the SDCC at I-Mockery's table #A10, and following that you'll be able to purchase it online, so don't worry if you can't make it out to the Con. You'll still be able to buy the book. And if there's enough interest, a color printing is certainly possible in the future (assuming Sharon wants to do it).
I had a damn good time writing it, and an even better time watching Sharon bring the words in my script to life. After all this time writing about comics, it's about time I got off my ass and actually wrote one myself. I hope you guys enjoy this thing even a fraction as much as I enjoyed seeing it all come together.
39 comments
Leave a Reply
Previous post: In Which I "Help" My Daughter With Her "Blog".
Next post: Doc Mock Episode #9 Premieres LIVE Tonight At 10pm PST / 1am EST!