I-Mockery At The 2009 San Diego Comic-Con July 22nd - 26th! Come See Us At Table #A10!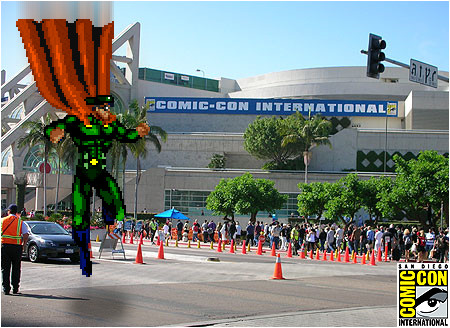 Hey everybody! The cars are all loaded up and we're about to head down to the 2009 San Diego Comic-Con! for I-Mockery's first time ever as an exhibitor! I hope you can come visit us at the convention (table #A10) because we've got lots of fun stuff to show ya! Here's a small list of what you'll see:
-A demo of our big new flash game playable on a genuine NES controller!

-Two different I-Mockery t-shirts (one of which is brand new!)

-A special limited edition poster that you'll stare at for hours on end!

-The debut of Protoclown's brand new "Henching" comic books!

-PickleMan comic books!

-Strangepuppets comic books!

-Limited edition button packs!

-Rumored appearances by Doc Mock and Miss Diagnosis!

and last but not least...

-Brand new custom I-Mockery Pickle Hats!
It's really going to be an insane time and I can't tell you guys how excited I am about it. We've put so much work (and moola) into making this happen and it's all because want to celebrate the 13+ years this site has been online with the fans that have kept us going all these years! So if you're going to be at the Comic-Con, be sure to stop by I-Mockery Productions Table #A10!
Myself, Max Burbank, Protoclown, Dr. Boogie and Re will all be there at the table! Pox and Bom (who both worked on the game demo we'll be unveiling) are also supposed to be stopping by so maybe you'll get to see them as well.
And yes, to those of you who've been asking in the blog and via email, we'll be more than happy to sign anything of the merchandise (or any other weird things you bring to the convention for us to sign). Somebody was asking just the other day for me to sign a book that I'm in that I didn't even know was out on store shelves yet, so maybe you'll get to surprise us to by bringing us stuff to sign.
For those of you who can't come, we're sorry you're gonna miss it, but rest assured we'll still do our best to take as many photos of the convention as possible. Obviously, we're gonna be super-busy with the booth, but once I'm back in town from Comic-Con, I'll try to post up all those photos as quickly as possible. I'll also try to update the I-Mockery blog with some photos each day if time permits.
Again, for those of you who've never been, I feel I need to remind you of a very important fact: despite the misleading name, the Comic-Con has MUCH more than just comic books. True, if you're a fan of comic books, you'll be in heaven, but if you're not that into 'em, there's still PLENTY for you to do. Over the years, the convention has basically become a mega-media event. The convention center is chock full o' the latest video games for you to test out, tons of movie promotions, toys galore, incredible costumes, and some truly amazing artists as well. If anything, comics have taken a backseat to all the other crazy things going on at the convention. So yeah, the name is really misleading to some people, and that's unfortunate because they have no idea what they're missing out on.
Alright, that's all for now. Wish us luck... this is gonna be one hell of an insane week!
If you want to relive the Comic-Cons of yesteryear, here's a look at just some of our huge photo galleries: [2008] [2007] [2006] [2005]
11 comments
Leave a Reply
Previous post: Doc Mock Episode #9 Premieres LIVE Tonight At 10pm PST / 1am EST!
Next post: Sooooooooo Busy!