Doc Mock Episode #10 Premieres LIVE Tonight At 10pm PST / 1am EST!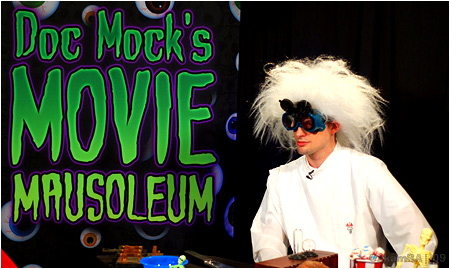 Hey guys, I'm just dropping in to give you all a quick reminder that the tenth episode of Doc Mock's Movie Mausoleum airs LIVE tonight (7/31/09) at 10pm PST / 1am EST, so be sure to catch it! You can watch the show and join in the chat room fun and either of the following two URLs:
http://www.justin.tv/thestreamdottv
http://www.stickam.com/thestreamdottv
Tonight is the last show before we're on a break until sometime in early-mid September, so you'll definitely wanna check this one out LIVE!
Also, if you missed our last episode from July 17th with special guest Hal Rudnick, you can get caught up on it before the show tonight. Click here to watch My Pet Snake: Part 1!
9 comments
Leave a Reply
Previous post: Sooooooooo Busy!
Next post: Well Fill My Gullet With Voodoo Gumbo! We're Headed To New Orleans!