Anybody Here Attending BlizzCon? Also, It's Time For Halloween Suggestions!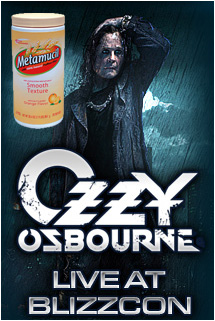 I'm heading down to Anaheim soon because I'll be doing BlizzCon news coverage once again for Diablofans. Are any of you guys going? I've always loved the Diablo and Starcraft series and they're gonna have Blizzard's latest demos of each upcoming game at the convention. I'm sure some of the old I-Mockery forum members remember some of our long multiplayer games on Battle.net. Glad I dodged that World of Warcraft bullet though... that game seems to swallow people's lives and they're never seen or heard from again. Eugh.
Also, the prince of darkness, Ozzy Osbourne himself, is scheduled to have a concert to close out BlizzCon this year. I have visions of his unconscious, withered ol' body being tied with cables to a forklift and driven out onto the stage while a tape of his vocals are played on top of the backing band's music. Or maybe it'll be more like a marionette situation, with Sharon tugging the strings to make him dance and sing. Should be interesting either way and I'm sure the crowd is gonna eat it up.
In other news, we're starting to gear up for our annual "Two Months of Halloween" celebration which is always my favorite time of year by far. With that in mind, I'm opening up this blog thread for suggestions from all of you. Is there anything you'd like to see us to cover on the site? I'm not just talking movie reviews... I'm also talking toys, costumes, novelties, events, cards, candies, etc. Can't make any promises, of course, but we'd definitely like to hear some of your ideas.
63 comments
Leave a Reply
Previous post: Super Duty Wiener Fork!
Next post: I-Mockery's Online Store Is Finally Up!