The Best Set Of Halloween Lights Ever!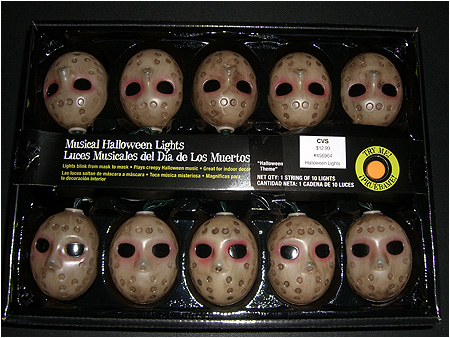 I was in CVS last night and could barely contain my excitement when I stumbled upon this set of musical Halloween lights or "Luces Miscales de Dia de Los Muertos" as the box informs our Spanish speaking friends. I already have an official set of licensed Friday the 13th lights along with some Texas Chainsaw Massacre ones as well (which you can see here), but I absolutely had to pick up this generic set from China. First off, I love how the Jason Voorhees hockey mask looks on these ones. Each mask has a nice 'n aged dirty look to it with just a hint of red mascara around the eyes. What... you didn't know Jason enjoys to put mascara on his mask to show a little warmth? Well now you do.
The other reason is because that this light set plays music when turned on. This was the real selling point for me because of the particular song they chose for these lights. I couldn't believe what I was hearing when I turned them on, and you won't either. Allow me to show you:
Yep! They actually decided to put John Carpenter's "Halloween" theme song with this set of Friday the 13th hockey mask lights! It's too bad they don't have a set of lights for Michael Myers, because I'm sure it would play "ki ki ki, ma ma ma" when turned on if they did. I know the two killers wear masks 'n all, but come on... the differences between the two are quite obvious. One's a psycho hockey player, the other is a psycho William Shatner.
This is now officially my favorite set of Halloween lights and they're going to keep my eyeball bubble light nice 'n company. At 13 bux (*gasp* a strange pricing coincidence or perhaps CVS paying a subtle nod to the Friday the 13th series?) for a set of 10, I'm seriously tempted to go back and buy some more of these.
24 comments
Leave a Reply
Previous post: Trick-Or-Treating For Stickers?
Next post: Doc Mock Now On iTunes! Plus, A New LIVE Episode This Friday Night @10pm PST!