Arkham Horror.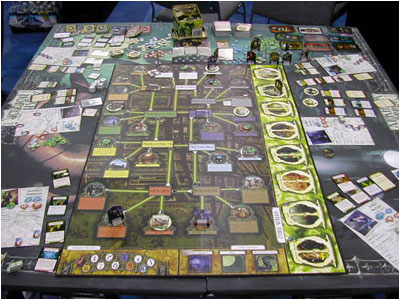 I'd been meaning to check out the Arkham Horror board game for a while, so I finally picked up a copy a few weeks ago and tested it out with some friends. At $60, it was one of those things I'd been reluctant to purchase without having played or seen demoed somewhere, but after reading enough positive reviews on Amazon and Board Game Geek, I just decided "what the hell" and dropped the money on it. Besides, it's a Fantasy Flight Game, and with stuff put out by that company, you know you're at least getting quality in terms of the board, pieces, etc.
Based on H.P. Lovecraft's Cthulhu Mythos, the premise of this game is that you're an occult investigator in 1920s Arkham, Massachusetts, and one of the Great Old Ones is on the verge of waking from its slumber and treating the world like a yummy chew toy. Portals to other freaky dimensions start opening up at various unstable locations throughout the city, and you have to explore these other dimensions so you can come back out and close the portals, fighting monsters and searching for clues every step of the way. If too many portals remain open unchecked, the Ancient One awakens and then you're fucked.
One of my favorite things about this game is that it's cooperative, which is very unusual for board games. In the core game, up to 8 players can team up to stop the awakening of the Ancient One, and believe me, it's in your best interest to work with the other players and help them out, because if you screw up, the Ancient One awakens and then you have one last feeble attempt at stopping it before you all die and everyone loses. This whole "all of us versus the game" mechanic is interesting, and results in a different playing experience from most free-for-all or team games.
One of the biggest complaints I read people making about the game is that it's too complex. And it's true that there are a tremendous shitload of tokens and counters and stats to keep track of. If you just wandered into the room where people are playing and watched for a few moments it would seem extremely esoteric and confusing. But once you know what all of the different pieces represent, it's fairly easy to understand, even if there is a lot to keep track of.
There are 16 different investigators to choose from and 8 Ancient Ones, so odds are every game will provide a completely different experience (provided the players don't latch onto their favorites every time). You can travel to many familiar Arkham locales, such as Arkham Asylum (yes, this is where Batman borrowed it from) or Miskatonic University and encounter monsters as basic as vampires to as bizarre as shoggoths.
The game also takes quite a long time to play. Our first game lasted about 5-6 hours, but we were also still learning the ropes, so I'm sure that slowed us down a bit. Though I'm told on average a game can be expected to last at least 4 hours. So it's definitely not a quick, casual game, but if you've got plenty of time to devote and are looking for a complex experience, this is a great game to play.
There are also 6 different expansions that add complexity and flavor to the game. Three of them are card-only expansions, while the other three add extensions to the board representing some of Arkham's neighboring towns. I'm told that you can actually play with all six expansions at once, but I dread to think of how many hours that would take (and I'm sure as soon as I own them all I'll find out).
So if you're looking for something new to try out this Halloween season, and you've got $60 to spend, I'd highly recommend this game. You don't have to be intimately familiar with the Chthulhu Mythos to play, though I'm sure you'd find the game more interesting if you were at least vaguely familiar with the stories that Lovecraft and others have written in this universe. You won't find this game at places like Target or Toys R Us, but you can find it on the internet or in most gaming/hobby shops. I picked mine up at the comic store I regularly frequent.
I'm curious to know how many of you out there have played this game, or have been interested in checking it out. I'd love to hear from anyone who's played with all the expansions thrown in.
46 comments
Leave a Reply
Previous post: Doc Mock Now On iTunes! Plus, A New LIVE Episode This Friday Night @10pm PST!
Next post: The Fat Boys' "Are You Ready For Freddy?" Music Video & Behind-The-Scenes Interview!