The Fat Boys' "Are You Ready For Freddy?" Music Video & Behind-The-Scenes Interview!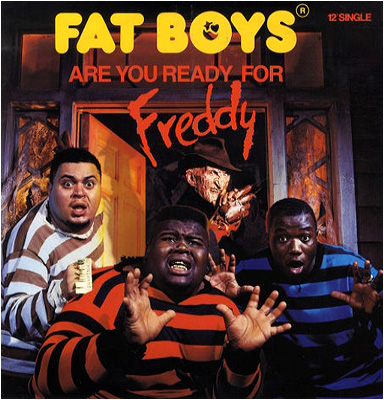 Remember when rap was fun? I sure do. I remember when I couldn't get enough of groups like Run DMC, Digital Underground, DJ Jazzy Jeff & The Fresh Prince, and of course... The Fat Boys. Sadly, those days seem to be long gone and have been replaced with talentless bling braggarts who are neither worthy of your attention or your hard earned cashola. But don't fret, for we can always listen to all the tunes from the golden era of rap. I'm sure a lot of you remember when The Fat Boys made the jump to film with their comedy "Disorderlies"... if you don't, I suggest you go out and find a copy as soon as possible to remedy such a grievous oversight on your part. What many of you may not know is that they actually put out a music video for their hit tune, "Are You Ready For Freddy?".
Not too long ago, I conducted a poll about the ultimate Freddy rap, and while "A Nightmare on My Street" by DJ Jazzy Jeff & The Fresh Prince was the clear winner, The Fat Boys were the only ones to have their video for "Are You Ready For Freddy?" actually released. See, JJ&TFP did make a video for "A Nightmare on My Street", but New Line Cinema apparently sued them and it still hasn't seen the light of day. It's become a legend of sorts amongst fans of the duo, and some people swore they saw it air once or twice way back when. I really hope that somebody does manage to track down a copy of it if the video did in fact air for a few days before being pulled, because I know I speak for Elm Street and JJ&TFP fans worldwide when I say I'd kill to see it.
That said, the one thing they surely didn't have in the video was the REAL Freddy Krueger played by Robert Englund. But the Fat Boys did, as it was released in conjunction with "A Nightmare on Elm Street 4: The Dream Master" (which is my favorite film in the series in case I haven't mentioned it a thousand times already). It's a great video in which the Fat Boys were named in the will of their "Uncle Fredrick" and are required to spend a night in his creepy house if they want to inherit it. Of course, they think it'll be a piece o' cake, but Freddy has plans to scare them outta the house with his blades and dope rhymes. If you've ever wanted to see Freddy rap or watch The Human Beat Box eating a powdered donut while wearing the infamous striped sweater, kick back and enjoy the video. As a bonus, I've included a behind-the-scenes CNN interview with the group from back in 1988 in which it's mentioned that they were working on a horror-comedy movie called "Fat Wolf" at the time. Fat Wolf. FAT WOLF!!! Man, do I ever wish they actually finished the project, because I'm sure it would have been an amazing flick which would have no problem rivaling "Teen Wolf". Well, at least "Teen Wolf Too". Anywho, here's the video for all you fans of Freddy and the Fat Boys to enjoy!
16 comments
Leave a Reply
Previous post: Arkham Horror.
Next post: Roger Barr VS. Doc Mock!