"Chill To Thrill" Color Changing Ghosts Mini Halloween Soda Cans!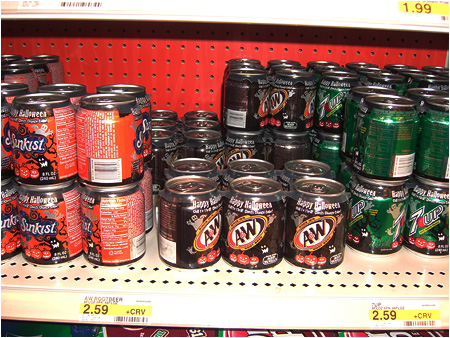 I went to Target the other day now that they've finally gotten on board with the 2009 Halloween season, and I'm disappointed to report that Jones Soda has once again released the same old Halloween sodas from the previous years. I always hope that they'll come out with some new "spooky" flavors each season, but they seem more interested in putting out weird holiday packs instead. Ah well, maybe next year.
The good news is that the Dr Pepper Snapple Group has just released some nice decorative mini Halloween soda cans for their 7-Up, Sunkist and A&W Root Beer brands. Sure the flavors remain unchanged, but there's no denying the desire to own miniature cans with Halloween scenery all over them. A haunted tree, jack-o-lanterns and ghosts adorn these lil' cans, but the ghosts aren't just any ghosts... they're "Chill to Thrill" ghosts!
It looks like they've taken an idea from Coors Light by copying their cold activated cans concept. Instead of having mountains turn blue, the ghosts on the cans change color when they get cold. While the Sunkist cans probably look the best of the three, what with the classic orange and black Halloween colors, I had to go with the root beers. Why? I like root beer, that's why.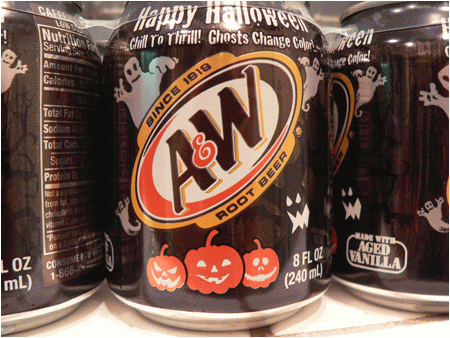 As you can see, the cans live up to their claims and the ghosts do change color after being chilled in the fridge. I gotta say though, while the ghosts do change color, it's clearly not a very drastic one. It's a subtle change from silver to light blue, which is a perfect color for ghosts, but it's definitely not a bright blue. If it wasn't for the note on the cans, I probably wouldn't have even noticed that the ghosts had changed color. Still it's a minor issue and I'm more than happy to drink root beer from mini Halloween cans, whether they're haunted by ghosts or not. At least, if I drink the root beer I can say I did a good deed, for those poor specters will no longer be freezing their ectoplasmic asses off.
In other Halloween news, I went to the Knott's Scary Farm 2009 Haunt this past weekend and took plenty o' photos of the park and mazes. You can expect a new photo essay about it later in the week. Until then, you can check out the photos from when I visited the park back in 2006 here.
10 comments
Leave a Reply
Previous post: Roger Barr VS. Doc Mock!
Next post: The "A Nightmare On Elm Street" Remake Trailer.