I-Mockery's "Turn Your Own Damn Groceries Into Halloween Jack-O-Lanterns" Contest Results!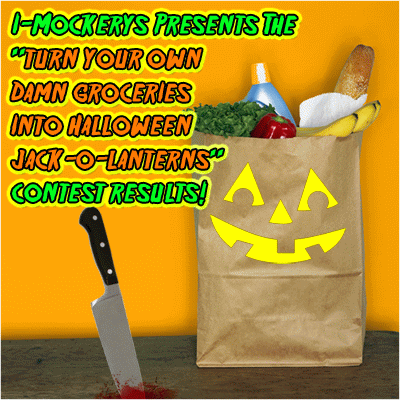 Sorry for the delay in getting the results up, I'm posting this from my old PC since my main laptop is on the fritz.
Anyway, that was certainly a different Halloween contest now wasn't it? For those of you who missed out on it, after I wrote the "Let's Make Halloween Lime-O-Lanterns!" article, I started up a contest asking everybody to take some of their own groceries and carve them into jack-o-lanterns. You guys turned in some truly awesome entries that have already made my Halloween season far more awesome.
The contest ended just this past week and the results are in. It was extremely hard to decide on the winner considering the quality of some of the entries, but we've made our decisions. So without further delay, the grand prize winner is...
FIRST PLACE: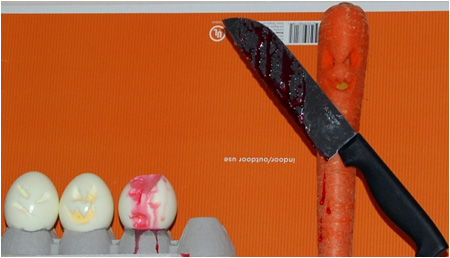 Evil Embryos vs. Texas Knife-Wielding Killer Carrot!
-by Dextire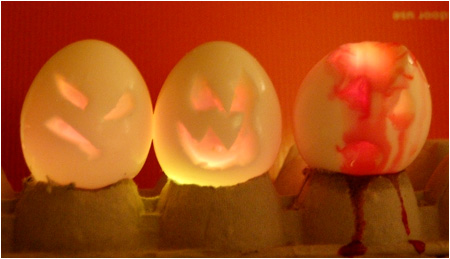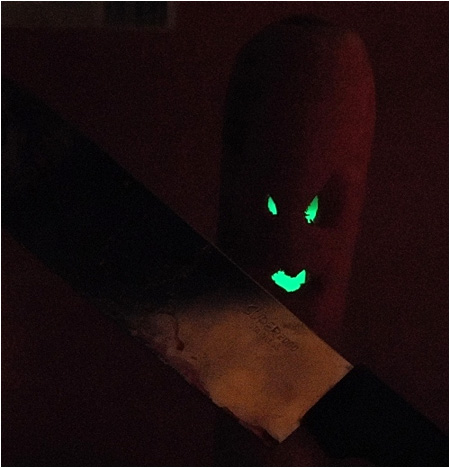 As you can see, Dextire's entry was highly creative and I love that each of the eggs (er, embryos) had different expressions. Two of the eggs are minding their own business and seem to be completely unaware that one of their brethren has been brutally murdered. It's also nice that he took the extra time to actually light them up like real jack-o-lanterns, and the egg carton was definitely a nice way to light them from beneath. He even used the egg whites to create the fake blood. And you've gotta admit, that glowing-green carrot looks pretty fucking sinister! Dextire also showed a lot of effort by submitting several other entries which can be seen in the official contest thread. Well done!
SECOND PLACE: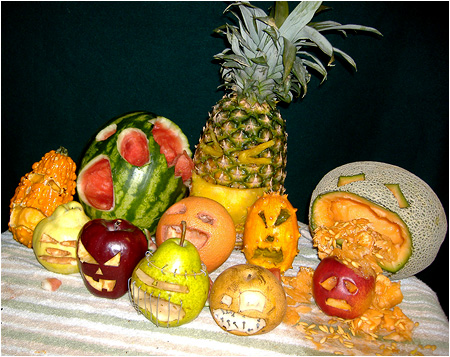 The Veritable Cornucopia of Terror!
-by Luigim128
It's as if Luigim128 received a gift basket and decided to go haywire on it with a butcher knife in a fit of rage against all fruits and melons. You've gotta love the variety in his carvings as well. Some are classic jack-o-lantern faces, sure, but there are others such as the cantaloupe puking on the peach, or the Frankenpear brought to life with small wires which make this a great collection. Really wish we could've seen this whole set lit up as I'm sure it would've been quite a sight, but Luigim128 informed me that they're all rotten now. Doh! Either way, he clearly put in a lot of effort and creativity into this Halloween cornucopia, so he definitely deserves to be one of our primary prize winners. We were so impressed with the variety of carvings that I've decided to give Luigim128 an additional I-Mockery pixel poster on top of his other prizes.
THIRD PLACE: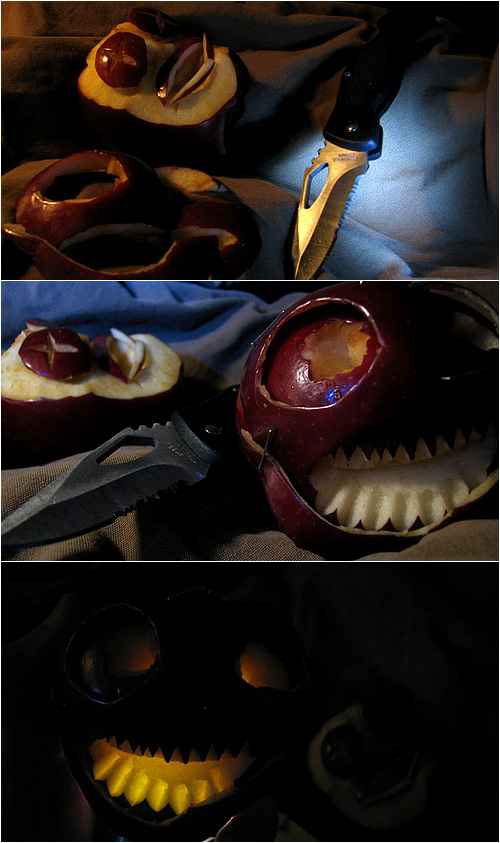 How You Like Them Apples?
-by Ducttapefury
Another totally unique entry. Ducttapefury seems to have been possessed by Leatherface, because he had his psycho apple kill another apple by cutting off its face. The psycho apple then stapled the skinned face to his own and wore it like a mask. And yes, Ducttapefury also lit up this entry in true jack-o-lantern style. How do I like them apples? I like them. I like them a lot!
FIRST RUNNER-UP: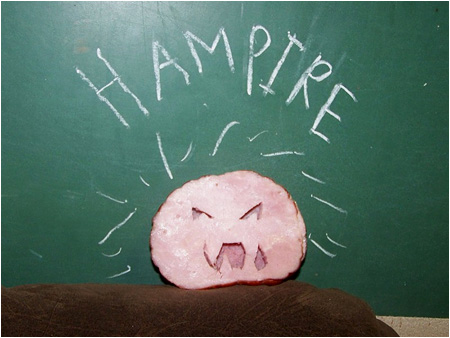 The Hampire!
-by Blood_Panther
Not only did I love the concept of a ham turned vampire, but I also feel sorry for whoever sits on blood_panther's couch in the future, for I'm sure those ham juices are now forever soaked into it. Mmm... ham couch. Blood_panther also turned in some amusing "Tropical Batnana" and "Gummy Mummy" entries which you should definitely all check out.
SECOND RUNNER-UP: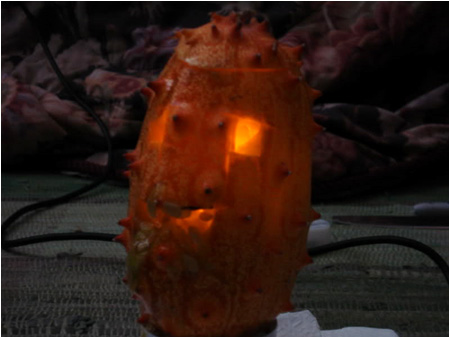 Pukey the Horned Melon!
-by BatmanJohnson
Rather than going with more commonplace groceries, BatmanJohnson decided to get a bit more exotic on us by carving up a horned melon! Unfortunately, I guess exotic melons get a bit nauseous when carved into lit jack-o-lanterns. Then again, who wouldn't?
THIRD RUNNER-UP: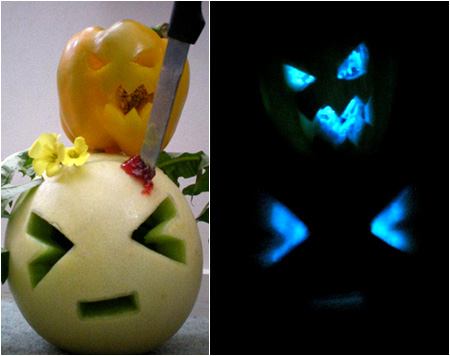 Psycho Pepper!
-by Wiffles
This one looks like something straight out of a Martha Stewart magazine, what with the flowery garnish 'n all. Even the use of strawberry jam in the knife stab wound looks artistic, and that evil pepper sure is proud of what he's done.
So there you have it! Congrats to all of our winners! Again, we had some truly fantastic entries and I want to thank all of you who took the time to massacre your groceries in the name of Halloween! As always, it was extremely hard judging this contest. Be sure to check out the official contest thread so you can see all of the entries that people turned in.
16 comments
Leave a Reply
Previous post: Halloween On Doc Mock's Movie Mausoleum Starts Tonight LIVE @10pm PST! Don't Miss It!
Next post: R.I.P. Captain Lou Albano. :(