The Hunt For A Halloween Costume.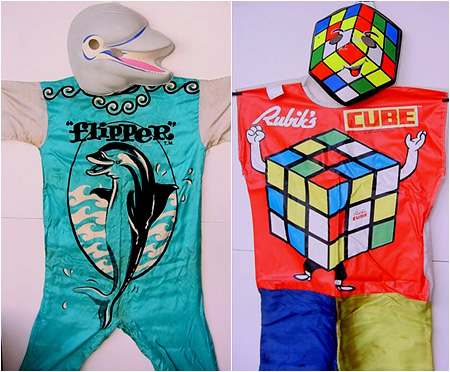 Oh how I long for the simple days when Ben Cooper costumes were king. If only it was as simple as going to the store and saying, "Why yes, I would like to dress up as Flipper the dolphin or a Rubik's Cube this Halloween!" Believe it or not, I still don't have a Halloween costume. Halloween is less than a week away and I still don't have a costume. How is this possible? This never happens. Granted, I've been busy as hell the past two months writing Halloween season articles on I-Mockery and doing the Halloween specials on Doc Mock's Movie Mausoleum, but that's still no excuse. I need to figure something out pronto!
How about you guys? What are you going as for Halloween? Feel free to share photos of your costumes in this thread. Who knows, maybe I'll just steal your idea and claim it was my own brilliant Halloween 2009 costume creation. Ok not really, but I am open to suggestions, because if I don't come up with something good soon, I may have to throw something ridiculous together at the last minute. Something ridiculous like my Halloween costume from 2003... The Hawaiian Ninja of Liberty: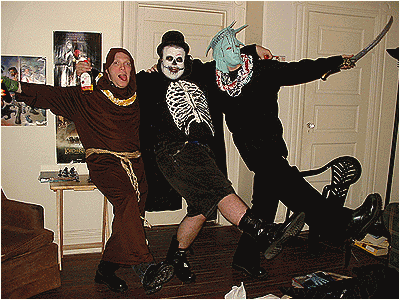 Yep, I actually wore a Statue of Liberty mask covered in blood, a Hawaiian lei flower necklaces, and a ninja costume with sword as my costume that year. They were among the only things left in the store the day before Halloween that year. Much to my amusement, everybody thought I was making some kind of political statement that year, what with Miss Liberty being covered in blood 'n all... but the truth is, I just threw some crap together at the last moment and became The Hawaiian Ninja of Liberty for no reason whatsoever.
Looking back at that costume, dressing up as Flipper or a Rubik's Cube is starting to sound pretty good in comparison.
47 comments
Leave a Reply
Previous post: Halloween Art Contest! Plus, Keith Apicary LIVE This Friday Night!
Next post: Our Big Halloween Special Airs LIVE Tonight! Thursday, 10/29 @10pm PST!