Happy Halloween!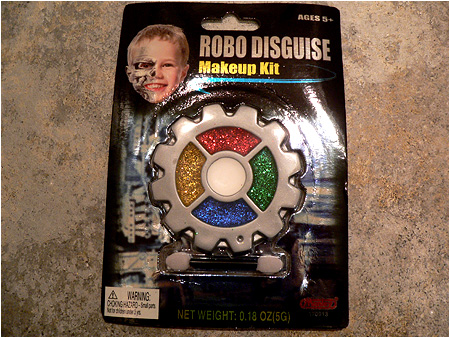 HAPPY HALLOWEEN EVERYBODY! So this is my Halloween costume. Hahah, no, of course it's not... but I HAD to buy it when I saw it in the local dollar store because it's absolutely ridiculous. Robo Disguise is neither a robot nor a disguise, it's simply four shades of glitter stuck into a little novelty gear. No matter how good you are with the application of make-up, you will NOT look like the robot kid in any way whatsoever. Actually, the kid doesn't look like much of a robot either, it's more like a weathered skull on one side of his face. Worst costume ever? Quite possibly.

We always like to end Halloween with a bang, so we've given you a quadruple attack of spooky awesomeness in the past 24 hours. First off, our new Doc Mock's MonsterTime game is up and running. It's a parody of and tribute to BurgerTime in which you play as Doc Mock himself, but you're not building burgers this time. No, this time you're building classic horror movie monsters instead while modern horror movie monsters chase you all over the screen! We have high scores working on it 'n everything, so try it out and see if you can make it onto the high scores list!
We also filmed a 3-hour Halloween special for Doc Mock's Movie Mausoleum on Friday night with some amazing guests - Count Dracula and Frankenstein's Monster! We put a LOT of work into that episode and I think you're gonna love what you see. If you missed it on Friday night, the episode is now archived online for your viewing pleasure and also available as a free download on iTunes. Click here to start watching it!
We felt bad about not having a Halloween "Select Your Destiny" story last year because we simply ran out of time, so this year there's a brand spankin' new one up online. It's full of all the crazy twists and bizarre deaths that you've come to expect from us, so I really hope you guys enjoy it. Click here to read Haunted Mansion Madness!
Last but not least, we have another greatest horror movie moment about "The Fury" up online compliments of Dr. Boogie, and it really is one of the best endings to a horror movie you will ever see. Your head asplode!
Well anyway, I do have a real costume all ready to go and will post photos of it as soon as I have a chance. In the meantime, I want to hear what YOU are dressing up as and doing for Halloween! Going trick-or-treating? Going to some haunted houses? Watching horror movies? If so, what?
In other news...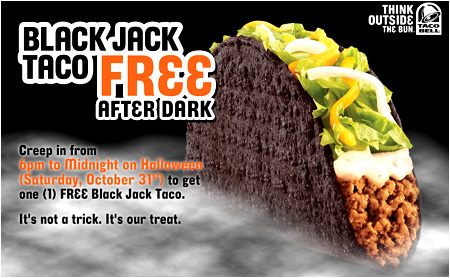 Did I call it or what? Just look at that promotion. They Photoshopped in some fog! Halloween fog for our Halloween taco. Next thing you know, they'll have the taco doing the Thriller dance. Oh sure, they may not be directly calling it a Halloween Taco, but giving out this particular taco for free on Halloween proves two things:
1) Tacoween™ and Official Taco of Halloween™ are now just as real as the Great Pumpkin.

2) Whatever I write on I-Mockery dictates Taco Bell's marketing efforts.
With great power comes great responsibility.
Hey Taco Bell, what say you sponsor our web site? It's the least you could do. Well that, or send us a truckload of Halloween tacos.
Ok everybody, again, thanks for sticking with us these past two months as your online Halloween headquarters! Hope you enjoyed all the new content this season! Please drop a comment and let us know what you thought of it all and don't forget to share your Halloween plans with us as well! Happy Halloweeeeeeeeeeeen!
21 comments
Leave a Reply
Previous post: 10 YEARS!
Next post: Our Halloween 2009 Costumes!