Doc Mock's Movie Mausoleum Thanksgiving Special With Matt Walsh Is Now Online!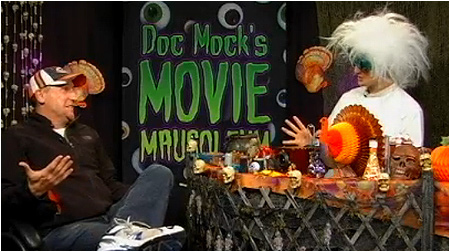 Man, that was a hell of a good time on Friday night. I hope most of you guys were able to catch the episode live, but if not, no problemo. Our Thanksgiving episode with special guest Matt Walsh is now archived online. Even those of you who did watch it live didn't get to see the entire episode since the network temporarily banned us because things were getting crazier than they expected. No worries though, we had the entire show backed up locally so anything you missed is included in the archived episode. Big thanks again to Matt Walsh for joining in all of the rootin' tootin' turkey shootin' excitement of our Thanksgiving episode! Still can't believe we had him on the show... talk about something I'll never forget. Alright here be the links to the archived show...
Matt Walsh Thanksgiving - Part I:
http://www.thestream.tv/watch.php?v=1898
Matt Walsh Thanksgiving - Part II:
http://www.thestream.tv/watch.php?v=1916
Don't forget, all of our new episodes are now available for free download on iTunes!
We'll be back this Friday, December 4th with an all new LIVE episode for you to watch and join in the chat room madness! After all, you wouldn't want to miss post-show moments like this:
12 comments
Leave a Reply
Previous post: Matt Walsh Appearing On Doc Mock This Friday, November 20th @10pm PST!
Next post: Gobble, Gobble, Goblins.