Silent Night, Deadly Night Sequels Finally Released On DVD!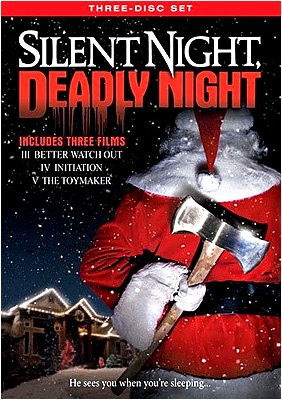 Now here's a totally unexpected surprise for the holidays this year. You guys already know that I'm a huge fan of Silent Night, Deadly Night - the controversial Christmas slasher film from the 80s that was quickly yanked out of theaters and became a cult hit on home video. In recent years, they put the original two films on DVD, and while those two are sadly out of print once again, parts 3 - 5 have just been released in a DVD set!
All of these flicks were released direct-to-video, and while they may not hold a candle to the original film or the hilariously exploitative sequel, it's gonna be nice to finally have them to complete the set. And trust me, there are still plenty of amusing moments in those sequels from bad acting to cheesy death scenes. I mean, come on, part 5 is all about killer toys... how's that for completely abandoning the original storyline about a psycho Santa on the loose? I seriously can't wait to get my hands on a copy of this set.
In case you missed out on it, here's my review of the original
Silent Night, Deadly Night:
www.i-mockery.com/minimocks/silent-night-deadly-night/
In other news, I went snowboarding for the first time since we moved out to California last night. I'll try to post some photos and videos from our little excursion sometime during the week.
7 comments
Leave a Reply
Previous post: A New Doc Mock Episode Airs LIVE Tonight @10pm PST!
Next post: A New Doc Mock Episode Airs LIVE Tonight @10pm PST!