The Big Christmas Holiday Special!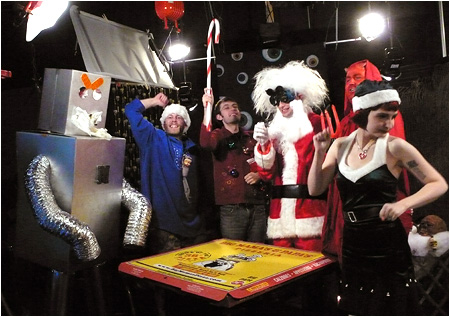 Question: What recently featured a ridiculous Christmas movie, multiple guests, a huge 36" pizza, Satan, a giant pizza-eating killer robot named Morg and more?

Answer: The Doc Mock's Movie Mausoleum Christmas Holiday Special!
I can't tell you guys just how much fun this episode was to do and I'm so glad we could end our 2009 season with a bang right before the holidays. Some of our kind viewers stated that watching this special is going to become part of their annual Christmas holiday traditions alongside viewings of A Christmas Story and Christmas Vacation. Wow... what more could we possibly ask for than that?
If you didn't get to catch the episode live this past Friday night, you really missed out on some of our best stuff to date, but all is not lost! We were able to get the episode archived online earlier than usual so you'd have plenty of time to catch it before Christmas!
The Big Christmas Holiday Special! - Part I:
http://www.thestream.tv/watch.php?v=1982
The Big Christmas Holiday Special! - Part II:
http://www.thestream.tv/watch.php?v=1983
Hope you all enjoy it and thanks again soooooooooooo much for all of your continued support for the show this year! It's been an amazing experience getting to live out one of my dreams of being a b-movie / horror host and keeping that format alive and well. Of course, I couldn't have done it without Re (Miss Diagnosis), Licky, Smiley, all of our past guests and everybody at at theStream too... so a huge thanks to all of them who've helped make the show what it is. We'll be returning again in mid-late January of 2010, so keep your eyes peeled for announcements of new episodes. TUSK!
7 comments
Leave a Reply
Previous post: Doc Mock's Christmas Holiday Special Airs LIVE Tonight @10pm PST!
Next post: Christmas Aftermath 2009.