Hollywood Ninja Inc.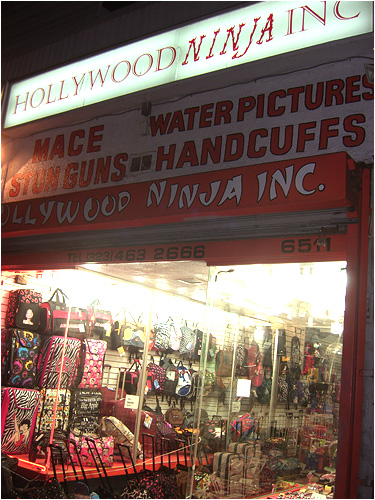 Yeah... just let that photograph sink in for a minute. That's an actual store in Hollywood, and sadly, when I drove by it the other day, it had a "For Rent" sign hanging out front. You know the economy is in the pits when an impeccable store like Hollywood Ninja Inc. can't survive. Just look at all of the glorious items one could find within their unique retail business. What I really love is how the sign informs us that they not only carry mace, stun guns and handcuffs, but they also sell water pictures. That's right, those classy framed pictures of nature scenes with moving water that one usually can only find as a prize at carnivals. In addition to all of this, just look at the stunning array of colorful luggage and handbags that they had to offer!
Hollywood Ninja Inc., allow me to be the first to say that this world will never be the same without you and you will be sorely missed.
In related news, Crazy Gideon is apparently retiring. Man, I'm really gonna miss those commercials.
23 comments
Leave a Reply
Previous post: Cast Thy Votes For Doc Mock's Movie Mausoleum In The Streamy Awards!
Next post: This Friday: The Return Of Doc Mock!