Bizarre Toy Find #1: Space Knight!
If there's one thing I love, it's going out and exploring the goods that random shops around the city have to offer and stumbling upon hilariously crappy toys. Sometimes they're bootleg toys, clearly trying to cash in on popular properties, and other times, they're simply generic toys from distant lands with a horrible grasp on the English language. If you're really lucky, you'll sometimes find a combination of both.
Now I've covered a lot of stupid toys here on I-Mockery in the past, and even shared some of my recent finds at a Dollar General store, but today I wanted to start up a new series of blog entries here that focus on single bizarre toy finds that I discover in my travels. After all, amassing enough crazy toys to do a full feature piece on takes quite a bit o' time, but posting about individual toys I find here 'n there shouldn't be a problem.
With that in mind, let's get to my first bizarre toy find: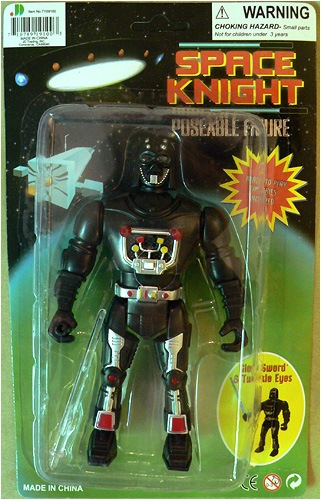 Space Knight!
Space Knight is an action figure from china that has no back story; the package he comes in has a blank cardboard backing. Even though there is no official back story to Space Knight, there is so much we can gather from just looking at him. First off, he's clearly a big rip-off of Darth Vader. Sure he has a slightly less flashy helmet, but he makes up for it with a pearl-like smile on his mask and bright red nipples. Any kid worth his or her salt would easily imagine those nipples shooting lasers, so that's a big plus for this figure already. Nipple lasers.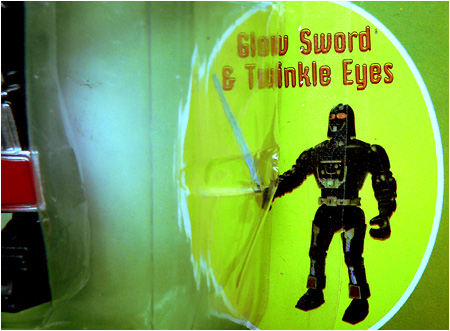 There's also the promotional language on the package that makes you want to play with Space Knight right away. No, I'm not talking about the choking hazard warning (though that's always a strong selling point), I'm speaking of the picture of Space Knight in the bottom right corner which is halfway covered up by the packaging bubble. "Glow Sword & Twinkle Eyes" is what it reads. GLOW SWORD & TWINKLE EYES! True, they could've gone with the more conventional "laser eyes" in an attempt to draw in the young male demographic, but this Chinese company likes to think outside of the box. What could be more menacing than a Space Knight, with laser nipples, coming right at you and the last thing you get to see is the glow of his sword and the twinkle of his eyes? A chilling thought indeed.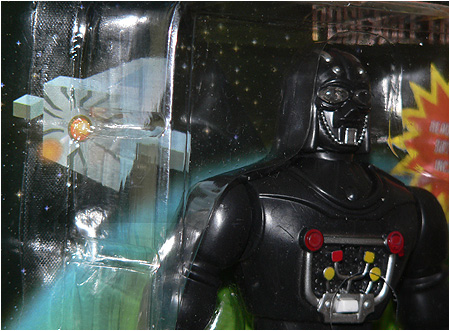 I can only assume that depiction of the odd shaped vessel to the left of his head is his space ship. While it doesn't appear to be the most aerodynamic of designs, and I'm pretty sure one shot to that bright orange orb on the back would destroy it, it still has that special something that says, "I belong to Space Knight." I guess it's safe to say that Space Knight is a big fan of the cubism movement. Vader had his TIE Advance X1, Space Knight had this... thing. I suppose it does need a name. For now, I think I'll go with "The Twinklor Q7". It has a nice ring to it, don't ya think?
While I could go on and on about the greatness of our new friend, Space Knight, I think a quick video clip demonstrating his greatest feature is in order. For you see, not only does he come with a glow sword and twinkle eyes, but he emits some amazing sounds as well. Sounds that one can only imagine are an accurate representation of the screams of the thousand-plus souls who fell before his mighty light saber, er... glow sword. Either that, or they're sounds you'd find on your average novelty keychain. Enjoy!
Just imagine that being the last thing you ever saw or heard and I think you can start to appreciate why Space Knight is in a league of his own. Space Knight, my friend, you're two dollars WELL spent.
So that wraps it up for this first installment of my bizarre toy finds, so please share your thoughts on Space Knight here in the blog. I'd also like to welcome any suggestions for toys for me to cover in the future. If you've seen any crazy toys in a store recently that you think I should know about, please email me the details about it and I'll see if I can track it down or work out some way for you to send one to me to cover.
30 comments
Leave a Reply
Previous post: New Doc Mock Tonight @10pm PST!
Next post: Enter Our Contest For Paul Scheer LIVE This Friday Night!