New Time For Doc Mock Tonight! Show Starts At 8pm PST / 11pm EST!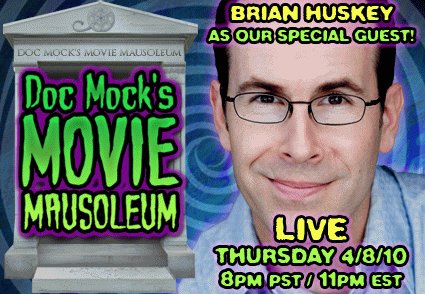 Hey all, don't forget that tonight (yes, THURSDAY) is our prime time premiere in the 8pm PST / 11pm EST time slot, so be sure to check us out LIVE! We have the one and only Brian Huskey (of Best Week Ever, Step Brothers, Superbad, Semi-Pro and more) as our special guest, so it's definitely gonna be a good time for all! Again, the show starts promptly at 8pm PST, so be sure to log in to the chat rooms early to talk with Miss Diagnosis and get ready for another fantastic guest along with a crazy flick from yesteryear!
ENTER DOC'S VIDEO CONTEST! Everybody always sends in nice compliments about the Doc Mock's Movie Mausoleum theme song, so we decided to have you guys participate in the fun of it. Now is your chance to show us how YOU would perform the song if given the chance! All you need to do is upload a video of yourself singing and/or screaming along with the song to Youtube and then send us the link. Our lucky winner will not only receive some Doc Mock prizes, but we'll play your version of the song LIVE on an episode of the show! There's still time to enter so click here for full details about the contest!
You can watch the show and join in the chat room madness at any of the following URLs:
http://www.justin.tv/thestreamdottv
http://www.stickam.com/thestreamdottv
1 comment
Leave a Reply
Previous post: Vroom! Vroom! Vroom!
Next post: Bizarre Toy Find #2: Titanic-Bot!