Who Put Ice In The Urinal?
One of my favorite diners in Los Angeles is a place called Cafe 50's. It's one of those classic style diners with all kinds kitsch items and memorabilia decorating the walls, and they happen to make a damned tasty variety of milkshakes. Still, there's something about the place that I've always found a bit odd. Alright, two things actually.
The first thing is that the men's bathroom is located in the kitchen. I don't mean near the kitchen, I mean you literally have to walk behind the counter and past the cooks to get there. While I'm sure they're used to it, anytime I've gone to use the restroom, I can't help but feel like they're staring at me and thinking, "What the hell are you doing back here?" One of these days I've gotta build up the nerve to go back there and just grab some food for myself instead. "Oh hey guys, don't mind me... just didn't feel like waiting for our server."
The other thing about the place that confused me for a long time was this: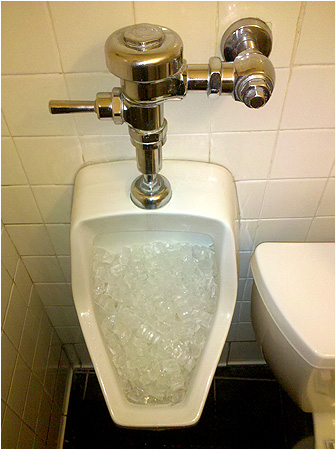 Ice in the urinal??? I had never seen ice in a urinal before going to this place, so it had me absolutely perplexed. At the same time, I enjoyed imagining myself as the personification of global warming while pissing upon the polar ice caps as they melted away. Well it turns out that ice in a urinal, while not something you see every day, isn't completely uncommon either. Some establishments do this in their public restrooms to prevent the spread of bacteria (which can only survive in warm temperatures), reduce the smell, and cut down on water usage. So in reality, it's definitely a good thing. Still, I can't help but think that they really do it because they always got a kick out of pissing in the snow and this is the next best thing.
Personally, if I find a place with ice in the urinal, I have one simple rule: hold the ice with your drink orders. You never know when a waiter or waitress might be having a shitty day and decide to fill your cup with some of the ol' urinal ice. Why take chances, right?
So there ya go... we all learned something new today.
In unrelated news, I'm going to be interviewed on "the world famous" KROQ radio station this Wednesday morning (June 2nd) at 9:10am on the Kevin & Bean show, so be sure to listen in live! You don't have to be in Los Angeles to hear the show, you can listen on their web site here. Should be fun!
22 comments
Leave a Reply
Previous post: Our Human Centipede Game Is Everywhere!
Next post: Hulk Hogan Wants To Wrestle Your Debt Into Submission! Whatcha Gonna Do!?