I-Mockery At The 2010 San Diego Comic-Con: Preview Night!
REMINDER: For those of you attending Comic-Con, I-Mockery is located in Row 300, Booth #A10 (located towards the back near the lounge area).
It's a little after midnight and I'm dead tired from setting up everything today at the I-Mockery Comic-Con booth, but I wouldn't miss it for the world, because I already had a blast talking with some I-Mockery fans and showing them the new Abobo's Big Adventure arcade cabinet! Huge thanks to Re for helping me get the booth set up today since we didn't have any other helpers on hand. She's a real trooper that one... be sure to check out some of her artwork at our booth or online!
Anywho, before I pass out, here are two photos that I'm pretty sure you'll all appreciate. First off, the grand unveiling of the completed Abobo's Big Adventure arcade cabinet at the I-Mockery booth!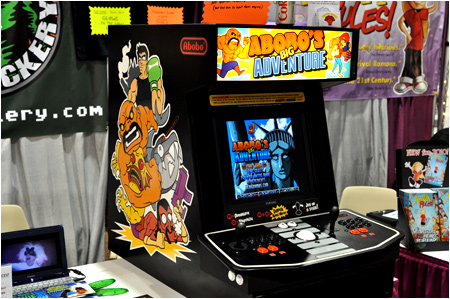 Seeing it finally up 'n running at Comic-Con damn near brought a tear to my eye. However, that tear saw Abobo's angry stare and quickly scuttled itself back into the rear of my ocular cavity out of sheer terror.
The other picture I have for you guys is of me and my buddy Keith Apicary (Nathan Barnatt) and it sums up the San Diego Comic-Con experience in a nutshell. We haven't even had the first day of Comic-Con yet and this may turn out to be my favorite photo from the entire event.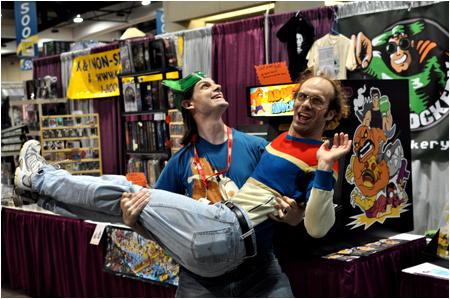 Love sure is a beautiful thing isn't it?
Don't forget, if you're attending the San Diego Comic-Con this week, you can find our booth towards the back of row 300. Our booth number is A10. We're the ones with the big friggin' arcade cabinet and people wearing pickle hats..... so yeah, it's pretty hard to miss. If you're not at Comic-Con, check our Facebook and Twitter pages throughout the day as I (or Re) will be posting updates (including photos) whenever we can. I'll still try to post a few pics at the end of every day here in the ol' I-Mockery blog if I have the energy.
Ok, must sleep now, because tomorrow is the first full day o' Comic-Con madness and I needs me strength!
9 comments
Leave a Reply
Previous post: I-Mockery At The 2010 San Diego Comic-Con July 21st - 25th! Come See Us At Booth #A10!
Next post: I Pity The Fool Who Don't Come Play Abobo's Big Adventure!