I Pity The Fool Who Don't Come Play Abobo's Big Adventure!
REMINDER: For those of you attending Comic-Con, I-Mockery is located in Row 300, Booth #A10 (located towards the back near the lounge area).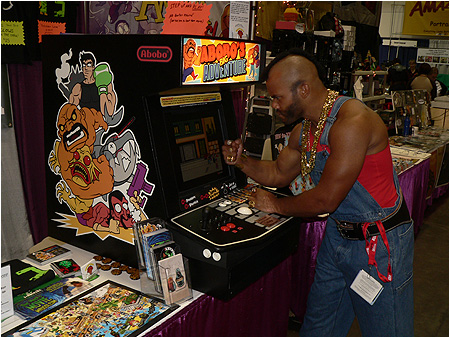 Yo ho ho! It's been insanely busy this year at Comic-Con, and that's probably because all the other guys weren't able to come this year and help out at the booth. As a result, I've been on duty since the convention started and haven't had much time to walk around yet... and today's the biggest day of the convention! Fortunately, I'll have some extra help on hand today and will do my best to walk around and take some pics for you guys whenever I have a chance. Looking forward to seeing all the crazy costumes once again. I mean, just look at that Mr. T guy. That thing is dead on!
In the meantime, check out this super nice review on Destructoid that they just posted about our upcoming game, Abobo's Big Adventure. Lots o' details on the game and impressions of it so far.
Anywho, I've gotta head over to the convention now, so I'll talk to you guys later on.
15 comments
Leave a Reply
Previous post: I-Mockery At The 2010 San Diego Comic-Con: Preview Night!
Next post: San Diego Comic-Con Recovery.