San Diego Comic-Con Recovery.
Just wanted to let you guys know that the 2010 San Diego Comic-Con was absolutely awesome and I am working on putting together another huge gallery of roughly 1000 photos from it. It's just gonna take a bit longer since I'm also in the process of packing up my place and moving (among other things that are keeping me plenty busy). You'd think a nomadic bastard like me would be used to moving by now and have it down to a science, but nope... it's just as time-consuming and exhausting as ever. I wish Elizabeth Montgomery would just show up, wiggle her nose and make all my crap instantly appear in a new home. That's what all witches should really do... start moving companies.
Anywho, I'll do my best to get this big photo gallery piece cranked out as soon as possible, and I'm sure it'll be worth the wait because we got some great photos of all the crazy costumes, toys and more.
In the meantime, please explain why this exists: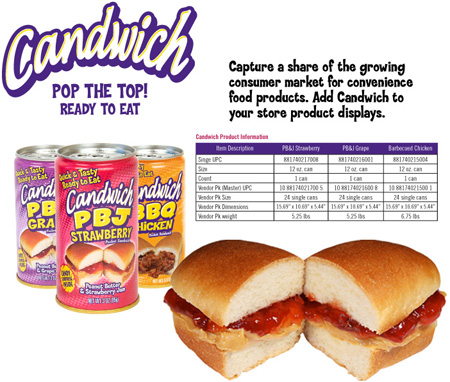 Candwich. The sandwich in a can. CANDWICH!
26 comments
Leave a Reply
Previous post: I Pity The Fool Who Don't Come Play Abobo's Big Adventure!
Next post: All Our Photos From The 2010 San Diego Comic-Con Are Up!