Upon An Oaken Throne, This Black Metal Master Awaits Goblets Of Royal Blood.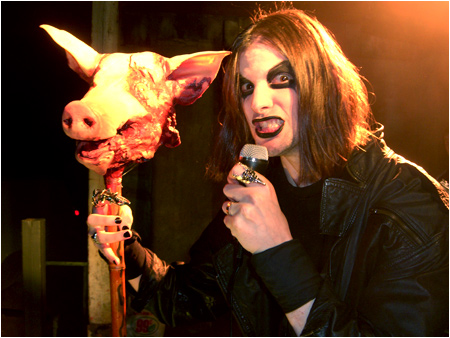 NOTE: Episode re-airs Saturday, November 20th at 2:30pm PST on G4. The segment is about the three "toughest rockers" - Ozzy, G.G. Allin, and Mayhem. Hope you can catch it! It's also available on iTunes, PSN, Xbox Live and Zune.
Yep, that's me. There's a new show called "That's Tough" coming to G4 TV in October focusing on the toughest people, places and things in the history of the world. Naturally, they chose to have me be on it. Har! They actually had me playing the lead guy from the infamous Norwegian black metal band Mayhem who killed himself years ago. Not sure when the episode / segment is gonna air for sure yet, but I'll be sure to post about it as soon as I hear more.
Anyway, it was a great shoot and I had a lot of fun being up on stage with that severed pig head while screaming in front of a crazed, headbanging audience. I've been a rocker of some sort in the last two shoots I've done... looks like I'm already being typecast. Actually, seeing myself in all that makeup really brings me back to the days when I was working on the ol' Metal Mockery site as I'm sure many of you old school I-Mockery chums recall. The Logo Deciphering section was always my personal favorite part of that site. Good times.
During some of my down time on the shoot, I was checking out one of the boxes filled with props and I found something that I knew would make for a perfect picture:
By combining my black metal costume with the baseball gear I found, I turned myself into a member of the Baseball Furies gang from The Warriors! Now if you'll excuse me, I clearly need to go find some nail polish remover.
QUESTION: If I was going to start up a metal band of some sort, a) what would you name the band and b) what would be my stage name?
34 comments
Leave a Reply
Previous post: All Our Photos From The 2010 San Diego Comic-Con Are Up!
Next post: A Belated Comic-Con Interview Video.