Today I Lived Out A Childhood Dream: I Got To Hang With Rowdy Roddy Piper!
Back when I was a kid, I dreamed of going to a big Wrestlemania event to meet Rowdy Roddy Piper. He was by far the most entertaining wrestler of what I (and any sane person) consider to be the golden age of wrestling. His character was loud, obnoxious, filled with Scottish rage and absolutely hilarious as he antagonized countless others in and out of the ring. Oh how I longed to see "Piper's Pit" in person. Well, that childhood dream came and went and I figured I'd never get to meet my kilted hero.
Well, that all changed today. Behold!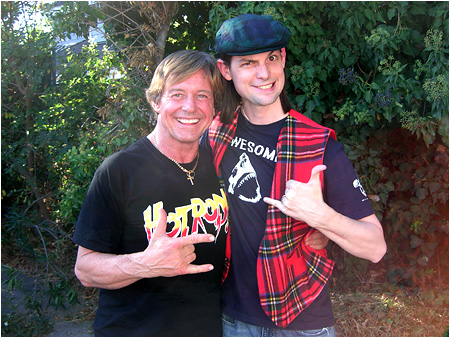 Yep, my all-time favorite WWF superstar, Rowdy Roddy Piper, was doing a comedy video shoot earlier today for Funny Or Die and I was lucky enough to be one of the guys in it. Obviously, I can't spoil any details about the video, but I guarantee it's going to kick ass (we were all out of bubblegum) whenever it goes live. For a guy who played such an antagonistic character in the public spotlight, Roddy was as nice as anybody I've ever met. He hung out and cracked jokes with us during the entire shoot, and you could tell he was genuinely happy to be there. So yeah... this was definitely one of those days I'll be remembering for quite some time to come. The the childhood eighties WWF fan in me simply couldn't be any happier today. Gonna have to try catching him the next time he does some stand-up comedy too.
While you wait for the FoD video to launch, here are a few articles of ours involving Roddy Piper's finest exploits outside of the ring:
-"Tag Team" Pilot Episode (starring Roddy Piper and Jesse Ventura)-
-Cyndi Lauper's "The Goonies 'R' Good Enough" music video!-
-Hell Comes To Frogtown!-
22 comments
Leave a Reply
Previous post: A Belated Comic-Con Interview Video.
Next post: Stab The Pumpkins! I-Mockery's 2010 Halloween Season Has Begun!