Michaels Is Ready For Halloween: The 2010 Spooky Town Store Displays!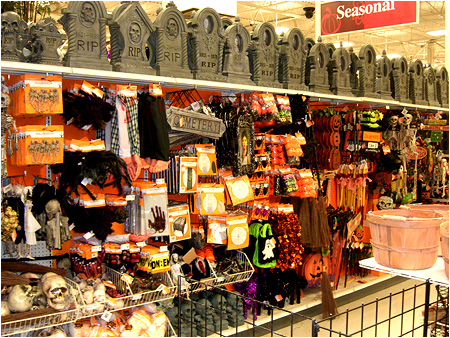 If there's ever a sign that Halloween is right around the corner, it's when Michaels arts & crafts stores first put up their annual Spooky Town displays that cause me to stand in the aisle like a zombie in a trance for what seems like hours on end. I've discussed them in years past, and the lengthy displays of spooky miniature figures and settings, complete with sounds and animation, simply never disappoint. This year may have been their earliest jump on the Halloween season yet. I took these photos on August 11th, almost three months before Halloween even occurs, and as you can see, they had EVERYTHING out. Styrofoam tombstones, pumpkins, skulls, witch brooms, trick-or-treat bags... yes indeedy, Michaels was actually ready for Halloween that early on. I don't know who at their company makes the decisions about when to put up seasonal holiday items, but they clearly get it and I graciously tip my pickle hat at 'em. I took a bunch o' photographs of their latest Halloween merchandise along with some video of their 2010 Spooky Town collection, so hit the jump to see all the footage!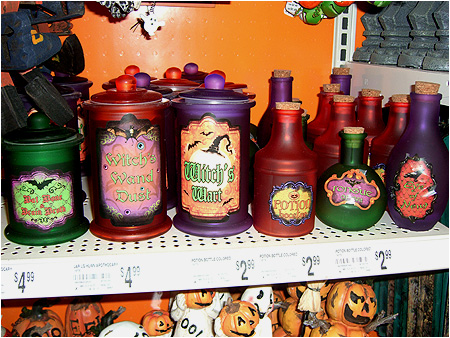 Normally when I go to Michaels, it's just to get some refills for my Bedazzler or get cross stitching tips from old ladies, but I always like seeing the latest witch brew glass display bottles come Halloween season. Sure, you could easily make your own, but considering these only cost three bux a pop, it's not like you'd be saving a whole lot. Stick some small LED lights in these suckers and they look really nice.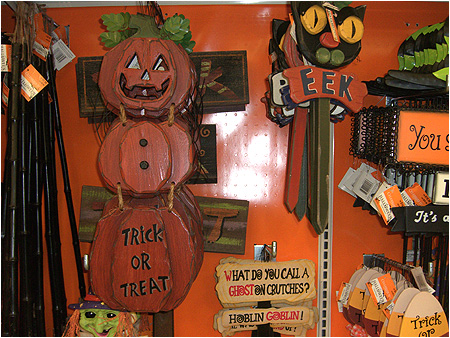 If there's one thing I've always been a huge fan of, it's vintage Halloween style displays. I'm sure you've seen some of the vintage Halloween cards I've shared over the years, and these nostalgic signs look like they were taken straight outta the Victorian era. I'm really digging the jack-o-lantern one, which appears to be a strange hybrid of a snowman and "Pokey" from Super Mario Bros. 2.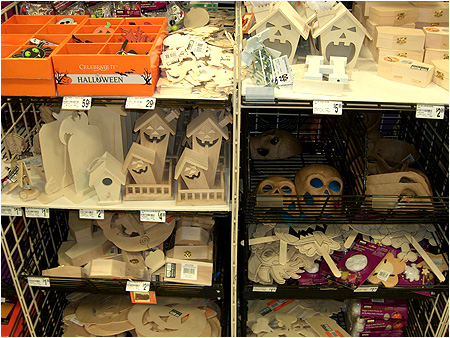 I've got wood for Halloween. Wait, that didn't sound right. What I meant to say was, Michaels always has an abundance of wooden do-it-yourself projects that you can paint in any way your Halloween heart so desires. I particularly like that they actually have haunted birdhouses this year, because if there's one thing I've waited decades to do, it's been to terrify our avian friends in the skies. Hell, we owe it to them after that Hitchcock movie. Payback's a bitch.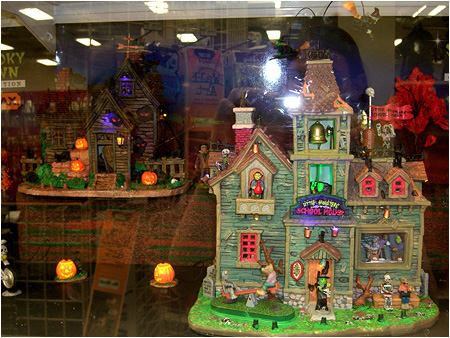 The first display of the Spooky Town collection here is the Little Monsters School House which features the Mummy and Wolfman on a seesaw, Frankenstein learning in class, and novelty tombstones which read "Math Class was a Killer!" and other gut-busting lines of that nature.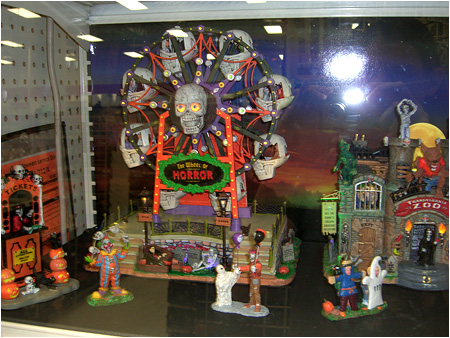 Here we have the ticket booth to the carnival featuring The Wheel of Horror, which is an animated Ferris wheel with skulls for seats. It was lit up at the time but the motor wasn't running. Also next to it was the Transylvania Zoo which the Creature from the Black Lagoon appears to be escaping from, presumably to go watch that skull-juggling psycho clown.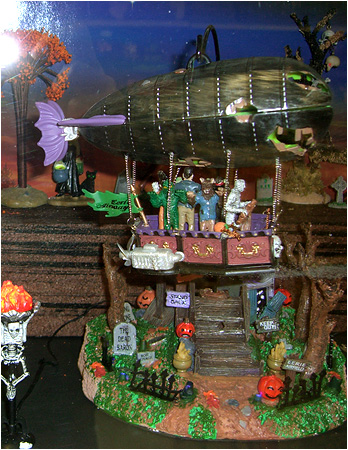 If you've ever wanted a steampunk blimp featuring a coffin filled with classic movie monsters, look no further than Eerie Airways. It's being steered by the Mummy, and considering the gaping holes that are in the blimp, I guess he's not doing the best job. Still, defying logic (and gravity), it continues to soar through the air.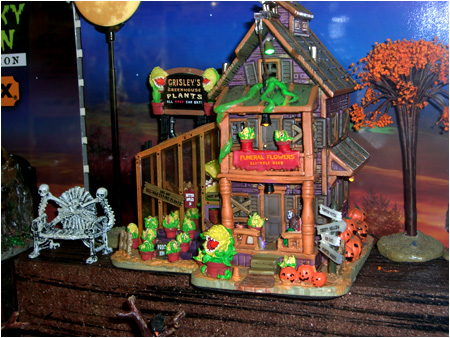 And here we have my favorite display from the 2010 Spooky Town collection: Grisley's Greenhouse! Finally, an appropriate Halloween homage to the greatest plant on earth, the Venus Fly Trap. Of course, these ones are more along the lines of Little Shop of Horrors as they are giant man-eating fly traps with tongues, teeth 'n all. I like how they've gotten so out of control on the inside of the house that their roots 'n vines are bursting out of the upper windows. Audrey II would certainly approve.
Alright, now that you've seen some photo highlights of Michaels Halloween goodies, here's my video footage of their complete 2010 Spooky Town store display. Sorry if some of the models are hard to see... they always put their displays behind some ultra-reflective acrylic sheets to prevent kids from messing with 'em.
12 comments
Leave a Reply
Previous post: Stab The Pumpkins! I-Mockery's 2010 Halloween Season Has Begun!
Next post: The Most Amazing Product Description EVER.